World Snooker: Stephen Hendry and other champions could return
Last updated on .From the section Snooker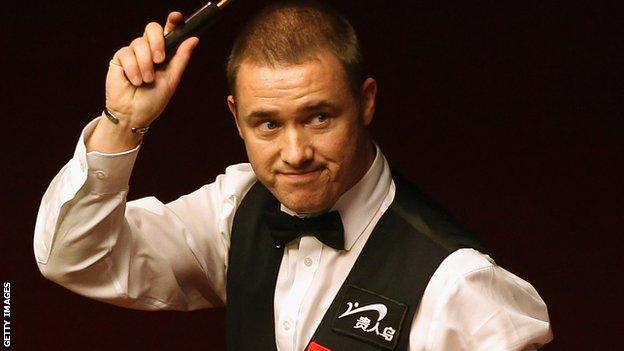 Seven-time world champion Stephen Hendry could come out of retirement for the 2015 tournament following changes announced by snooker's governing body.
World Snooker chairman Barry Hearn has revealed that every living former world champion will be invited to play in the qualifying rounds.
Hendry, 45, quit in 2012 after defeat in a World Championship quarter-final.
"Stephen Hendry, I understand, is getting quite serious about playing," said Hearn.
"We'll have to see what form he brings to the table and how often he wants to play."
The overall championship will increase from 128 to 144 players.
"The extra 16 will be drawn by inviting any player who has won the World Championship in the past and additional cards will be made available to include players from emerging countries," Hearn added.
The world's top 16 players will continue to automatically go through to the first round proper of the tournament at the Crucible Theatre in Sheffield, but all players ranked 17 and below will now have to start their bids in the first of three qualifying rounds.
Victory in the first of the qualifiers will guarantee £6,000 to the winner, compared to the current amount of £1,000.
Steve Davis, who won the world championship six times between 1981 and 1989, failed to reach the Crucible this year after defeat by Craig Steadman in qualifying and lost his tour card in the process.
Speaking on BBC Two at the current World Championship in Sheffield, Davis appeared open to Hearn's ideas.
"I feel more comfortable accepting on a tournament-by-tournament basis if they haven't had a full level of entries, [rather] than accepting a tour card for two years that does bump someone out," said Davis.
"Stephen Hendry is an interesting concept. He retired and all of a sudden made noises he might play in a few events. Would it be nice to see him back? Yes, if he fancied it."
Hearn named several other ex-champions as being in line for invitations.
"I would like Ray Reardon to play, I'd like him to turn up, he is invited, he is a past world champion.
"Cliff Thorburn, Terry Griffiths, Dennis Taylor, Joe Johnson, they have now got their chance to live again at the World Championship and who should deny them, as long as it is not coming at the expense of somebody else."