Ali Carter pulls out of first tournament since chemotherapy
Last updated on .From the section Snooker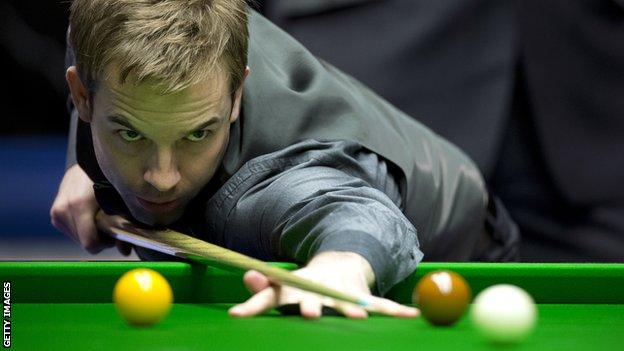 Two-time World Championship finalist Ali Carter has postponed his planned return after undergoing chemotherapy.
However, he has been advised to rest after pain in his left arm prevented him practising. He could return instead at November's PTC event in Germany.
"I am so disappointed, but remain full of excitement," Carter said.
"I remain positive and hopeful that I will be well enough to return to competition soon."
The 2010 Shanghai Masters winner, who also has Crohn's disease and has already overcome testicular cancer, had three rounds of chemotherapy and has one procedure left to burn away the remainder of the tumour in his lung.
Carter is a three-time ranking tournament winner, having landed titles at the 2009 Welsh Open, 2010 Shanghai Masters and 2013 German Masters, but lost to Ronnie O'Sullivan in the 2008 and 2012 Crucible finals.
Ali 'The Captain' Carter

Carter is a two-time World Championship runner-up. He reached the final in 2008 and 2012 where he was beaten by Ronnie O'Sullivan

He has Crohn's disease - an autoimmune disorder that affects the digestive system - and was diagnosed with testicular cancer in June last year

Won three ranking tournaments - 2009 Welsh Open, 2010 Shanghai Masters and 2013 German Masters

Carter was given the all clear from testicular cancer in July 2013, but was diagnosed with a cancerous tumour on his lung in May this year