Ali Carter to retain 13th seeding after cancer treatment
Last updated on .From the section Snooker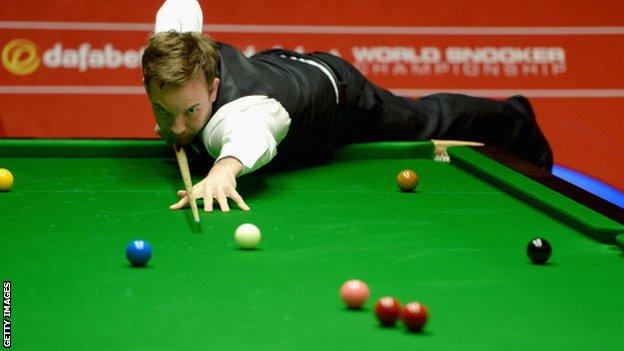 Ali Carter will be seeded 13 for the remainder of this season's tournaments - the ranking he held when he began cancer treatment in May.
Carter, 35, won the General Cup in Hong Kong on his return this month.
He is currently ranked 15 but would be likely to fall further as he will miss the next ranking event in China.
"Seeding him will give him opportunity to make up lost ground," said World Professional Billiards and Snooker Association chairman Jason Ferguson.
Former world number two Carter, who has overcome testicular cancer, was diagnosed with a cancerous growth on his lung in May.
He beat former world champion Shaun Murphy 7-6 in the final of the non-ranking General Cup at the weekend but will miss the International Championship in China starting on 26 October. The UK Championship in York begins on 25 November.
World Snooker chairman Barry Hearn on Carter
"Everyone who knows Ali will be thrilled that his treatment has been successful, and it's fantastic news for our sport that he is returning to the action. He is a class act on and off the table and we look forward to seeing him play in the big events."
When Carter withdrew from the World Snooker Tour in May to receive treatment, it was stated that: "Ali's standing as a player will not suffer in relation to an extended period of time away from the tour."
He will be seeded as if he was ranked 13th for the remaining events this season, including the Masters and the World Championship. However his world ranking position will not be amended and he will not receive any prize money towards his ranking position for the events he has missed.