International Championship: Ricky Walden beats Mark Allen to title
Last updated on .From the section Snooker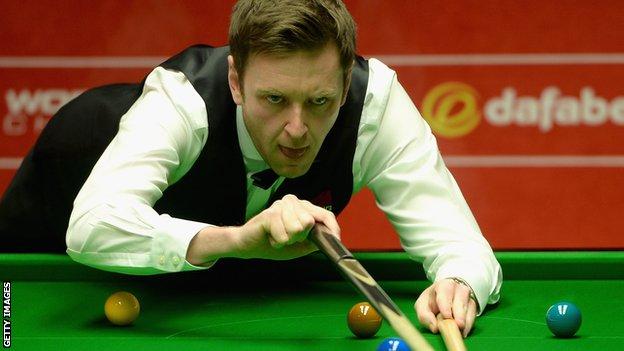 England's Ricky Walden defeated world number eight Mark Allen 10-7 to take the International Championship title in Chengdu, China.
The world number 11 comprehensively took frames 15, 16 and 17 after a closely fought first session to claim the £125,000 top prize.
Northern Ireland's two-time world champion Mark Williams to reach the final, while Walden thrashed Robert Milkins 9-2.
"It's a dream come true," Walden said.
"I couldn't be happier," he told worldsnooker.com. "It was a tough first session today, then I got better in the second session.
"It was so important for me to get my hands on the trophy. The money is a bonus. My wife will find a good place for it."
Walden now has three career ranking titles. He beat Ronnie O'Sullivan to win the 2008 Shanghai Masters and Stuart Bingham at the 2012 Wuxi Classic.
Allen lost a ranking final to Stuart Bingham in the Shanghai Masters earlier his year and was beaten in the minor-ranking Riga Open final by Mark Selby.
He said: "I didn't come here to finish second. I'll probably look back in a few months time and think I've had a great start to the season. But I've lost three out of four finals and that's not good enough.
"I need to go back to the practice table and keep working. I'm doing the right things as I have got to four finals. I just need to turn them into victories."
Final results
Mark Allen (NI) 7-10 Ricky Walden (Eng)
1-109 (59), 85-1, 25-69 (64), 52-57, 76-48, 113-1 (113), 49-67, 67-18, 71-31 (52), 0-100, 44-79, 4-85 (85), 69-1 (68), 88-7 (74) 0-85 (85), 0-103 (103), 0-116 (54, 62).
Far east form
Mark Allen ranking victories:
2012 and 2013 World Open
Ricky Walden ranking victories:
2008 Shanghai Masters, 2012 Wuxi Classic, 2014 International Championship
Far East fact: The finalists have five ranking victories between them and all have come in China