UK Championship: WPBSA act after Ronnie O'Sullivan comments
Last updated on .From the section Snooker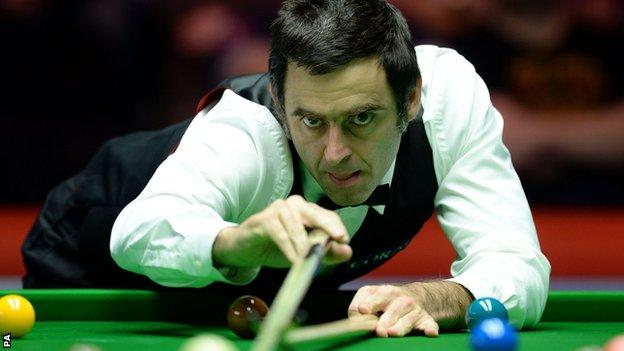 UK Championship, York Barbican
Dates:
25 November - 7 December
Coverage:
Watch live on BBC One, Two, Red Button, online, mobiles and BBC Sport app from 29 November.
Snooker's governing body employed table-fitters throughout Sunday night to address concerns about playing conditions at the UK Championship, according to chairman Jason Ferguson.
The World Professional Billiards and Snooker Association acted after Ronnie O'Sullivan said the tables at the York Barbican were "shocking".
"Table-fitters worked round the clock and that will make a big difference to the cushion bounces that people are talking about," Ferguson, chairman of the WPBSA, told BBC Two.
BBC Sport's Jamie Broughton:
"Barry Hearn says he will listen to concerns about the tables because he wants to make sure they are in tip-top condition, but insists he won't change the format.
"Some of the players might not like the flat 128 draw where everyone competes from the first round onwards but the chairman of World Snooker believes it is the fairest system they have.
"This year there has been a 20% increase in ticket sales and, according to Hearn, that support means the tournament will remain in York for the immediate future."
O'Sullivan, who beat Peter Lines 6-3 to progress to the third round, said the balls were hitting the "cushions at one mile an hour and coming off at three miles an hour".
He also criticised the tournament's format, which sees the early rounds being played on four tables at a time instead of two, and suggested that could contribute to some "weird results" as the competition progresses.
The event pitches the top 128 players in the world against each other and Ferguson added: "What we're responsible for as a governing body is 128 professional players on the world snooker tour.
"What we intend to do is make the conditions the best we can for every single player. The only way sport works is if it's fair and everybody gets the same opportunity."