Masters 2015: Judd Trump seeks capital gains at Alexandra Palace
By Owen Phillips
BBC Sport
Last updated on .From the section Snooker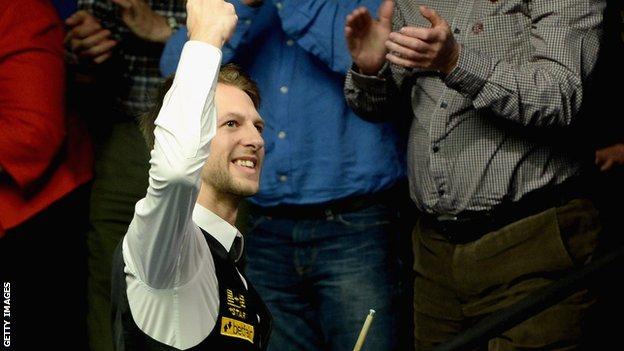 Masters 2015
Dates:
11-18 January.
Venue:
Alexandra Palace.
Coverage:
Live on BBC TV and online.
Judd Trump hopes the boisterous London crowd and unique Alexandra Palace atmosphere will inspire him to a first Masters title this week.
The 25-year-old Bristolian says playing near his adopted Essex home feels special because of the buzz generated by one of snooker's glamour events.
Trump, who faces Scotland's Stephen Maguire in the first round on Monday, told BBC Sport: "I love playing there.
"The crowd are up for it, seem more vocal and get a bit more involved."
And the excitement he feels at playing at the week-long invitational event is further boosted by the confidence gained from an impressive season so far.
Ranking event success
Trump's first ranking event win came in 2011, a 10-8 victory over Mark Selby in the China Open final. Further titles followed at the 2011 UK Championship, the 2012 International Championship and the 2014 Australian Open.
Only the stunning form of Ronnie O'Sullivan has prevented Trump from adding to his victory at the Australian Open - the second ranking event of the season.
O'Sullivan beat Trump 10-7 in the Champion of Champions final and and also triumphed 10-9 in a thrilling UK Championship final, despite a sensational comeback in which Trump recovered from 9-4 down to draw level.
"I had some time off after the UK," said Trump. "But I am feeling good and getting sharper, I have a good record this season and it's important to do well here.
"I like the feel of the tournament. It's maybe the second biggest tournament and is the best atmosphere. In London, the crowd seem to get more in to it. I don't know why. It's just different.
"I'm not scared of that. I really enjoy it, even if the support is for the other player. It's all good fun and it think it helps me play better and focus and inspires me.
"I would much rather that than silence. The shouting and noise gees you up and gives you the kick you need.
"Every game feels like a final because of the one-table set-up. The prize money is good and seeing as it's all the best players and there are only 16 in the draw, everyone thinks they can win it."
Trump's best showing at the Masters, the second longest running tournament in snooker after the World Championship, saw him reach the semi-finals in 2012.
But the former world number one and four-time ranking event winner is feeling sharp and confident he can go all the way this time.
Trump said the two defeats by O'Sullivan - widely acknowledged as the best player in the sport's history - have to be taken in context.
"The people I have played in finals are greats of the game," the 2011 UK champion added. "Only losing to Ronnie and then players like John Higgins, another of the best players ever is not too bad.
"Of course you feel disappointed and I'm happy I feel like that because it shows I want to improve and am motivated. But you cannot get too upset if you lose to Ronnie in a final."

Trump, the only player under 30 at the Masters, says his considerable experience at a relatively young age has helped him deal with the mental side of the game.
"It definitely comes with with age and experience," Trump added. "You have to forget what has gone before, get on with the game and focus on that. You cannot afford to be affected and let things worry you.
"At 9-4 down against Ronnie, I just totally relaxed. Nothing was going right for me but then I potted a few balls and couldn't miss and that's the way it goes sometimes. At 9-5, the balls just seemed to run for me.
"It's still a great disappointment. I am the sort of player who can rattle off frame after frame when I am on a roll. But you cannot afford to give top players leads like that."