Welsh Open: Ronnie O'Sullivan likens venue to 'shopping mall'
Last updated on .From the section Snooker
The new venue for the Welsh Open is like a "shopping mall", according to defending champion Ronnie O'Sullivan, who won twice on the opening day.
The Motorpoint Arena in Cardiff hosts the 10-table event for the first time since 2003 and O'Sullivan criticised it after beating Vinnie Calabrese 4-1.
"It's like playing in a shopping mall," he said. "There were people walking around and getting up when they wanted.
"The etiquette of snooker is not to move when a player is on his shot."
The tournament had been held at the Newport Centre for the last nine years, before World Snooker chairman Barry Hearn announced the tournament was being moved to a new, larger venue for 2015.
"I don't like it," five-time world champion O'Sullivan told BBC Sport. "I thought Newport was one of the best venues I've played at, so I was really gutted to see it go.
"I had played here, so I knew what kind of venue it was. It's kind of like playing in an aircraft hangar, so it's a bit difficult.
"The atmosphere's not great, the acoustics are not as good, so from a snooker player's perspective, it's not as good a venue as Newport.
"But you need venues that are big enough to take 128 players."
O'Sullivan, 39, beat Calabrese 4-1 in his first match before knocking out Rory McLeod 4-2 in the second round.
Elsewhere, there was a surprise 4-3 defeat for 2005 world champion Shaun Murphy as the world number seven lost his second-round match against Welshman Jamie Jones.
The 27-year-old from Neath's most notable achievement so far is a Crucible quarter-final appearance in 2012 - a run in which he defeated Murphy in the first round.

Farm animals and burned out cars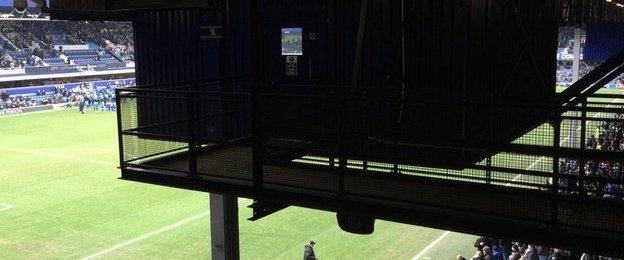 On the back of Ronnie's complaints, we asked for your worst sporting venues. Here's some of the best via #myworstvenues
Mike A: "Playing football on a pitch at East Haddon, Northants, covered with sheep's poo. When we went back to the dressing room at half-time, they let the sheep back on the pitch to replenish the poo that was on our kit."
Russell in Aberdeen: "Turned up for an under 11s football game at Fintry in Dundee to find a burned out car on the pitch! Needless to say the game was cancelled."
Simon in Gloucester: "In a game in Brackley, I was in goal and at half-time, a cow sharing the field left a message in the six-yard box."
Graham Lithgow: "Had a pitch that resembled the D-Day landings with dog poo instead of mines. Only had two German machine gun nests mind."
Ian Tizzard: "Aveley stadium. Cup final '99. Rock solid pitch. Almost broke my back playing in studs. Scored and won 3-2. Back ache for weeks after."
Johnny Pringle: "Cricket tour to West Indies, match on island of Cariacou. Opponents' warm up was clearing cow pats from the outfield."
David Wignall: "Tennis court with tree branches overhanging one end. No lobs from that end. Smash it to the tree from other end for an easy "lob".