World Snooker: Barry Hearn says more women will compete in future
Last updated on .From the section Snooker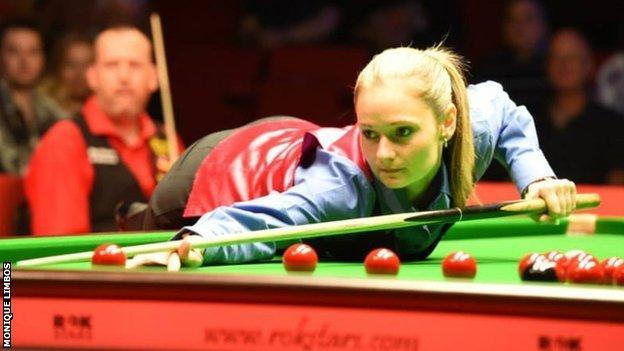 A woman can "be just as good as a man" at snooker, says World Snooker chairman Barry Hearn.
"Reanne has jumped at her chance and she is capable of beating half the field, maybe more," Hearn told BBC Radio Sheffield.
The qualifiers for snooker's showpiece event take place from 8 to 15 April.
Evans, the 10-times ladies' champion, needs to win three matches to become the first woman to play in the tournament's main televised stages at the Crucible Theatre in Sheffield.
Who is Reanne Evans?

Current world ladies snooker champion - aiming for 11th title in April. Mainly right-handed, but can play with her left

Now coached by Stephen Feeney, who has helped Stuart Bingham and Martin Gould to success

Competed against the men this season in Players Tour Championship events in Bulgaria, Portugal and Germany

Says her top break is 142 - five off a maximum; and has hit a 140 in competition
In May 2014, six-time world champion Steve Davis was asked if he thought a woman would ever compete in the latter stages of the World Championship, to which the BBC commentator replied: "No."
However, Hearn feels Evans can become a pioneer in sport and has the ability to compete with the men.
"Reanne has won the Women's World Snooker Championship more times than I have had a slice of toast," said Hearn.
"She is a fantastic player but it is an open game. The future of the sport is to open the game to everyone, irrespective of race, colour or sex.
"We need to say, 'There is a snooker table, go and play'."
'Equal pay for men and women'
A BBC Sport survey in 2014 into prize money found that 30% of sports reward men more highly than women, with the biggest disparities in prize money found in football, cricket, golf, darts, snooker and squash.
In snooker, women are allowed to compete alongside men at the world championship, provided they qualify, but they also run separate a women's championship, with Evans receiving £1,500 for winning the female event in 2014.
The men's world champion Mark Selby was awarded £300,000 after beating Ronnie O'Sullivan in the final last year.
Hearn feels the imbalance needs to be addressed.
"I absolutely agree with equal pay for everybody whatever side of life, providing they do the same job," he added.
"But let us see what Reanne does. It certainly makes it interesting for the future because we will see more and more women in darts and snooker."