Reanne Evans: I would accept wildcard for men's snooker tour
Last updated on .From the section Snooker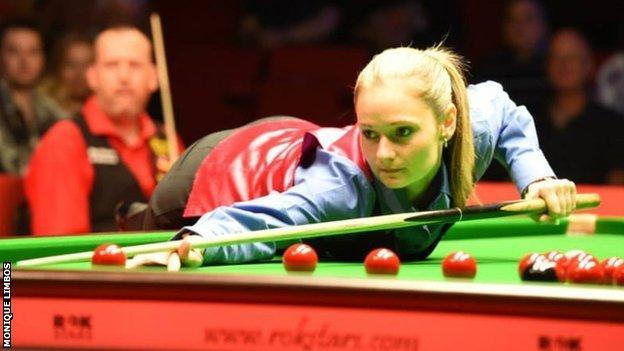 Former world snooker champion Reanne Evans says she would accept a wildcard to play on the men's tour again.
The Englishwoman received a wildcard to the professional World Snooker Tour in 2010-11 but failed to win a match.
Evans, world champion for 10 years until Hong Kong's Ng On Yee won the Ladies' World Snooker Championship on Tuesday, will try to qualify on her own merit but is also open to a wildcard.
"I would take any opportunity I get to play, " Evans, 29, told BBC Sport.
"You need to play in those conditions to improve your game. I just want to play snooker, if they offer you a wildcard you are not going to decline."
Five-time world champion Ronnie O'Sullivan says Evans should be given the opportunity to play against men, and would "do herself justice".
And seven-time champion Stephen Hendry said: "You only improve by playing better players. It was the same when I started playing. You'll obviously lose more than you'll win at the beginning. But you learn every time you get beat.
"They are talking about wildcards for the Tour, especially Reanne, she won 10 World Championships, if that doesn't deserve something special then nothing does."
Evans failed in her bid to become the first woman to play in the main draw of the World Championship, losing to Ken Doherty in the first qualifying round.
She will play at Q-School next month to try to qualify for the World Snooker Tour.
Any amateur players can take part in the school - which comprises two tournaments - but only eight will be given a two-year tour card.
"I am going to give it my best shot in a few weeks and try my hardest on the practice table and hopefully get some results," she said.
Who is Reanne Evans?

Ten-time world ladies snooker champion. Mainly right-handed, but can play with her left

Now coached by Stephen Feeney, who has helped Stuart Bingham and Martin Gould to ranking tournament success

Competed against the men this season in Players Tour Championship events in Bulgaria, Portugal and Germany

Says her top break is 142 - five off a maximum; and has hit a 140 in competition
"It is a lottery, you need to make sure you are performing on the two events during the year, there are a lot of top amateurs out there, so the luck of the draw plays a big part."
Evans lost 10-8 to 1997 world champion Doherty in the first of three qualifiers for the World Championship, which is taking place at the Crucible in Sheffield.
Then 11 days later she was beaten 4-2 by Yee in the semi-final of the Ladies' World Snooker Championship.
"I felt a bit flat," Evans said.
"You get the vibe maybe things are not going quite your way, with all the hype playing Ken in the Worlds, I was on a little downer, but I can't take anything away from her, she played brilliantly."