Ronnie O'Sullivan tips Anthony McGill to be future world champion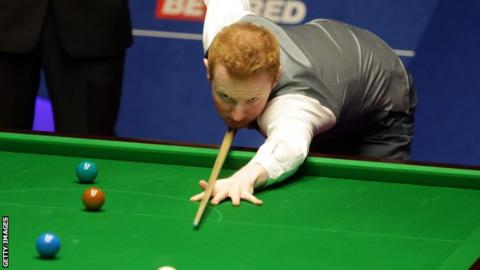 Five-time world champion Ronnie O'Sullivan has tipped Scotland's Anthony McGill to win the World Snooker Championship one day.
McGill, 24, won his debut match at the Crucible with a 10-9 win over fellow Scot Stephen Maguire, holding his nerve when he was pegged back from 9-5 up.
Now he faces defending champion Mark Selby in the last 16.
"You see players come and go and others who come and stay and McGill's coming and staying," said O'Sullivan.
"He's been at the UK Championship, had a good run, he's got an appetite for the game and I love to see that, because that's the new breed of players coming through.
"I'm sure he might get his hands on this trophy one day and he deserves it more than anyone because he loves the sport and you can never keep people like that down."
Selby had to dig deep to book a date with McGill - fighting back from 9-8 down before eventually beating Norwegian qualifier Kurt Maflin - but O'Sullivan thinks his fellow Englishman will start a strong favourite against McGill.
"I'm over the moon for him that he's got here, but he's got his work cut out against Selby," added O'Sullivan.
"He is going to feel every ball out there, because Selby does what Selby does and that's grind you into the ground and make you feel like you've got to fight for every opportunity, every ball.
"But it's a good learning process for him and I'm sure, whatever result he gets, he'll learn a lot from that match."
The Glasgow-born McGill practices with Alan McManus, who lost 10-5 to Ali Carter.
McGill said: "I am just having the time of my life out there playing and sometimes I can't stop the smiles coming across my face.
"Guys like Stephen Hendry and John Higgins, Alan a Masters champion, Maguire UK champion. These guys are some of the best players ever.
"I don't see myself as being that good, so I don't think about being the next one."
On facing Selby, he said: "It is a great match to look forward to. I can't wait to play it.
"He has the Crucible curse waiting to strike I guess, as it does with every first-time winner. He has a match to win and that to dodge as well.
"If I was to win, it would be a major shock. All the pressure is on him. This is too important a match to freeze.
"If we played the match 10 times, I might only win it once, but this might be the once."