Mark Davis eyes consistency after World Snooker exit
Last updated on .From the section Snooker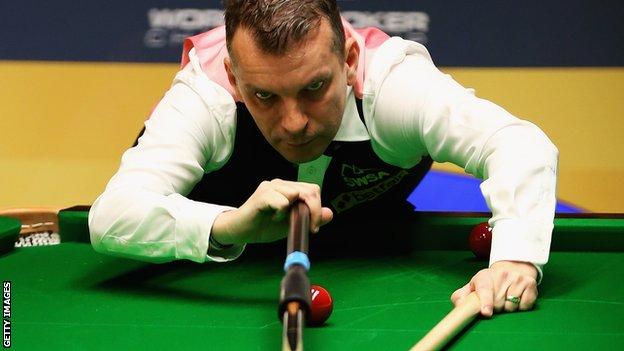 Mark Davis says grinding out wins against snooker's elite is the key to finally ending his quest for a ranking event victory.
"I know my game is there but you need to be consistent," Davis, 42, said.
"And even if your game is not good, you need a 'B game' to compete with the big boys in the quarter-finals and semi-finals. I haven't quite had that."
Davis has reached four ranking event semi-finals, including an appearances in the last four at the Australian Open earlier this year.
The world number 18 from St Leonards has won four minor events during his 24-year professional career.
"I wanted to win a tournament this year but it hasn't happened," Davis added.
"I don't know how many more chances I will get.
"The season has been pretty consistent but nothing spectacular as usual. Compared to the majority of my career it's a lot better.
"But when you are getting to quite a few quarter-finals you want to push on and when you don't, it can get you down a little bit.
"It's been okay money-wise but I wanted to win a tournament. Maybe I will next season."