World Snooker: Reanne Evans criticises gender divide in sport
Last updated on .From the section Snooker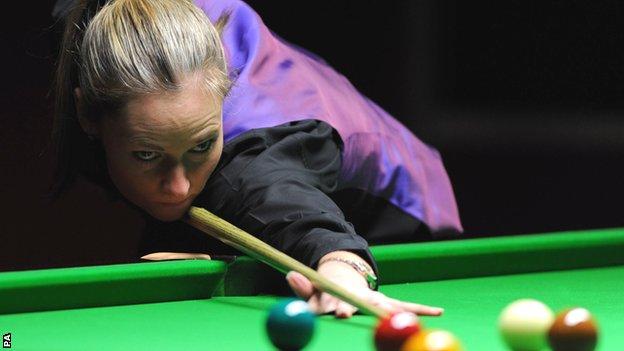 Reanne Evans, the 10-time ladies' champion, has criticised World Snooker chairman Barry Hearn's efforts to close the gender divide in the sport.
Evans failed in her bid to play against the men at this year's World Championship, losing in qualifying.
"Barry says it is equal opportunity but it is not," the 29-year-old told Radio 4's World At One programme.
Hearn has said a woman can "be just as good as a man" at snooker and Evans was "capable of beating half the field".
Evans lost 10-8 to Ken Doherty earlier this month as she attempted to become the first woman to play in the main draw at the Crucible.
Less than a fortnight later, her reign as ladies' world champion was ended by a shock 4-2 loss to Hong Kong's Ng On Yee in the semi-finals.
Hearn told BBC Sport: "If the women's game is serious, they have to grow themselves. They have to be commercially viable. You can't look for handouts.
"For our tour, there are no barriers to entry, the only condition is ability."
Evans feels more needs to be done to give women "an incentive" - claiming a tournament high-break prize in the men's game is equivalent to her career earnings.
"We need to attract more, improve the game and build our own ladies' tour up, then maybe - in a couple of years - give the top four ranked players places in invitational events or on the tour," she said.
"At the moment ladies don't want to be pushed into the deep end.
"But we do need to build our own tour up; I think that's the most encouraging part for ladies' snooker."
The men's world champion, Mark Selby, won £300,000 by beating Ronnie O'Sullivan in the final last year, while Evans received £1,500 for winning the ladies' event.
Dudley-based Evans says the pay disparity is "frustrating".
She added: "I have been ladies' champion for 10 years, I'm still struggling to earn any money at all."