Anthony McGill lauds "too good" Shaun Murphy after 13-8 loss
Last updated on .From the section Snooker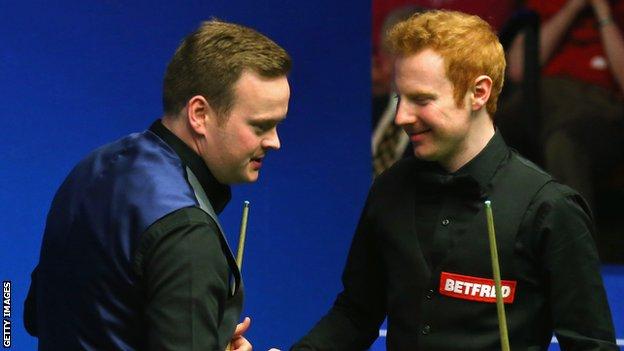 Anthony McGill said he had been "completely hammered" as he lost 13-8 to former champion Shaun Murphy in the quarter finals of the World Snooker Championship.
Trailing 9-7, McGill won the first frame of the afternoon session, but Murphy took the next four to end the Scot's dreams.
The 24-year-old made his Crucible debut after making it through the qualifiers.
"He was far too good. He played too good for me," admitted McGill.
McGill had seen off defending champion Mark Selby in the previous round and fellow Scot Stephen Maguire before that.
However Murphy, a winner in 2005, made 72 as he opened up a 12-8 advantage, and compiled 67 to seal his first semi-final since 2009 against Neil Robertson or Barry Hawkins.
"The guy's a world champion, he's ten years older than me," said McGill.
"He's been here many times, it's my first time, so I'm just coming up and he's up there. That's the difference, it just takes time.
"I've learned it's the best place ever to play [the Crucible]. I love it. Hopefully I can come back again. I'm just really grateful I had a chance to play here.
"It's made me really proud, it's not easy to get here.
"I just wanted to qualify. I thought if I could qualify it'd be job well done. And then I won my first match and I was like 'my God', and then I beat Mark Selby and I was like 'oh my God'.
"I was expecting to get no-where near it [the final] so it's not too big a disappointment."