UK Championship: Ali Carter says Crohn's disease hurt his chances
By Owen Phillips
BBC Sport at the Barbican Centre, York
Last updated on .From the section Snooker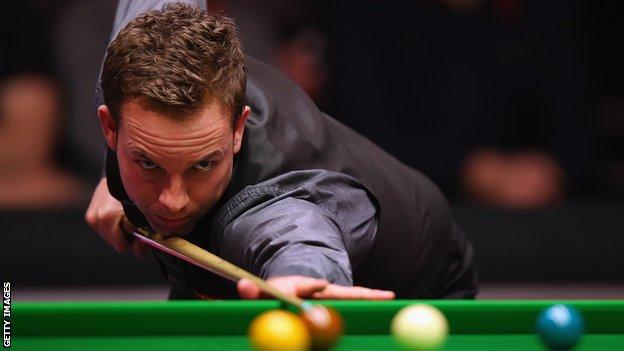 Ali Carter said his battle with Crohn's disease put him at a huge disadvantage during his third-round UK Championship loss against John Higgins.
Carter has suffered with the condition for years and struggled throughout the 6-2 defeat by the three-time champion at the York Barbican.
Carter, 36, told BBC Sport: "I have such a handicap living with this Crohn's disease.
"When you have constant abdominal pain you can't settle."
Carter, who has recovered from a life-threatening cancerous tumour on his lung, scored a fluent 89 in the opening frame.
But Higgins lived up to his billing as a pre-tournament favourite, barely missing a ball thereafter.
He capitalised on a couple of Carter misses to pinch the next two frames and rattled off five frames in succession before closing out victory.
Two-time World Championship finalist and world number 28, Carter, added: "I missed a couple of balls and am 3-1 down.
"It is so hard to compete at the top level anyway and when you have something like that, it makes it very difficult.
"I don't want to keep going on about it and I don't feel like my game is a million miles away. But it is such a big handicap If you are not 100% right competing at this level."
"It's a wonder I can compete at all. It's not an excuse, it's a handicap. But in the bigger picture, I am lucky to be alive I suppose."