Ronnie O'Sullivan hits 800th century break in Championship League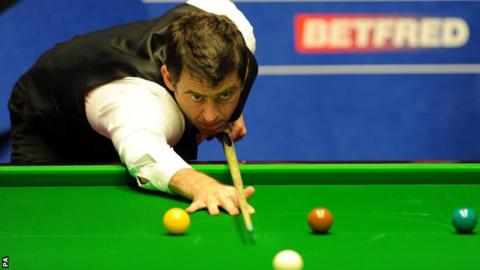 Ronnie O'Sullivan has become the first player to make 800 career century breaks, on his way to winning Group One of the Championship League.
The Essex potter, 40, made 136 against Barry Hawkins in the final match of the group stage to bring up the milestone.
He then defeated Ricky Walden in the semis and Robert Milkins in the final.
It is O'Sullivan's first success since he took a break after Stuart Bingham beat him in the quarter-finals of the 2015 World Championship in April.
"I'm pleased to have had a few matches and I look forward to the Masters now. It would be nice if I could bottle the scoring this week," said O'Sullivan.
"To reach 800 is a nice milestone to get to. A thousand would be good but I will probably have to play for another three or four years to get that."
O'Sullivan will be joined by six other players in the Championship League winners' group, which will be played from 2-3 March in Stock, Essex.
The Masters, which O'Sullivan has won on five occasions, begins in London on Sunday and will be broadcast on BBC TV.