Players Championship: Hawkins and Walden reach semi-finals
Last updated on .From the section Snooker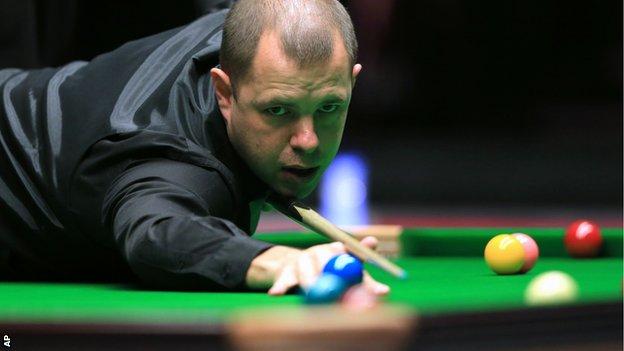 Barry Hawkins will meet Ricky Walden in the last four of the Players Championship after the pair came through their quarter-finals.
World number eight Hawkins held off a comeback from Ding Junhui to beat the Chinese player 4-2 in Manchester.
Walden made century breaks in the first and third frames before easing to a 4-1 victory over Ali Carter.
Mark Allen was also a 4-1 winner, over Mike Dunn, and faces Shaun Murphy, who edged past Ben Woollaston 4-3.
Schedule
Saturday, 26 March
Semi-finals (best of 11 frames)
NB: Clocks go forward one hour on Sunday, 27 March at 01:00 (1am) to mark the start of British Summer Time (BST).
Sunday, 27 March
Final (best of 19 frames)
Results
Friday, 25 March
Quarter-finals (best of seven frames)
Barry Hawkins (Eng) 4-2 Ding Junhui (Chn)
Ricky Walden (Eng) 4-1 Ali Carter (Eng)
Mark Allen (NI) 4-1 Mike Dunn (Eng)
Shaun Murphy (Eng) 4-3 Ben Woollaston (Eng)
Thursday, 24 March
Second round (best of seven frames)
Ben Woollaston (Eng) 4-2 Matthew Selt (Eng)
Shaun Murphy (Eng) 4-1 Dominic Dale (Wal)
Mark Allen (NI) 4-2 Mark King (Eng)
Mike Dunn (Eng) 4-2 Ryan Day (Wal)
Ricky Walden (Eng) 4-2 Marco Fu (HK)
Ali Carter (Eng) 4-1 Judd Trump (Eng)
Ding Junhui (Chn) 4-0 Michael White (Wal)
Barry Hawkins (Eng) 4-3 Robert Milkins (Eng)
Wednesday, 23 March
First round
Barry Hawkins (Eng) 4-2 Michael Holt (Eng)
Matthew Selt (Eng) 4-1 Andrew Higginson (Eng)
Mark Allen (NI) 4-1 Mark Davis (Eng)
Mark King (Eng) 4-2 Sam Baird (Eng)
Ryan Day (Wal) 4-1 Kyren Wilson (Eng)
Tian Pengfei (Chn) 1-4 Robert Milkins (Eng)
Mark Williams (Wal) 3-4 Dominic Dale (Wal)
Tom Ford (Eng) 1-4 Ricky Walden (Eng)
Tuesday, 22 March
First round
Ding Junhui (Chn) 4-1 David Gilbert (Eng)
Marco Fu (HK) 4-3 Alan McManus (Sco)
Shaun Murphy (Eng) 4-1 Liang Wenbo (Chn)
Ben Woollaston (Eng) 4-3 Jimmy Robertson (Eng)
Michael White (Wal) 4-2 Luca Brecel (Bel)
Allister Carter (Eng) 4-1 Graeme Dott (Sco)
Martin Gould (Eng) 1-4 Judd Trump (Eng)
Rory McLeod (Eng) 1-4 Mike Dunn (Eng)