UK Championship 2016: Mark King knocked out of first round after forgetting cue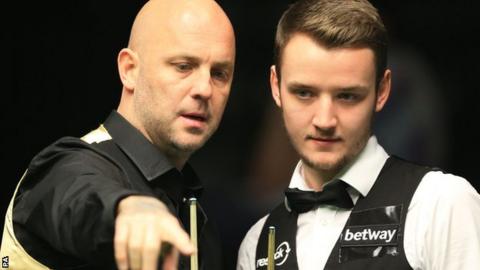 Betway UK Championship
Venue: York Barbican Dates: 22 November to 4 December
Coverage: Watch live on BBC TV, Connected TV, Red Button, BBC Sport website and app from Saturday, 26 November. TV times and channels
Mark King suffered a shock 6-2 first-round defeat at the UK Championship in York after he forgot his cue after the interval and was docked a frame.
King, who won his first career ranking event at last week's Northern Ireland Open, trailed fellow Englishman Sam Craigie 3-1 at the break.
But that turned to 4-1 when he returned to the arena having left his cue in the tournament office.
"It's just one for the silly book," said King, 42.
"I have now done two things in three days that I have never done in the rest of my career - winning a ranking tournament and forgetting my cue."
Romford-born King said he was having trouble with a sponsor logo on his cue and went with referee Jan Verhaas to replace it in the tournament office.
"I was in a daze, had my cup of tea, had my banana and left my cue in there," said King. "Then I came out to the arena and thought 'oh my god, where's my cue'!
"If I'd said to Sam 'can I borrow your cue to break off' and then said I was going to the toilet, I wonder if I wouldn't have been punished?"
King could still win the £5,000 prize money for the tournament's highest break, having scored a superb 141 in the frame immediately after he was penalised.
He added: "It has been a bad day but it has been a really good week - the best week of my life when you talk about snooker. It's not all doom and gloom."