BBC Sport - Mark Allen hopes NI Open will stay in calendar despite his 'home pressures'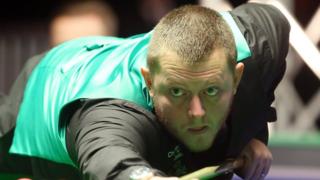 Allen hopes NI Open will remain despite 'stress'
Mark Allen says he will do everything in his power to encourage snooker's bosses to keep the Northern Ireland Open in the calendar.
Allen said he struggled to deal with the pressures of being the main home hope as he could only reach the quarter-finals of the inaugural event before losing to Anthony Hamilton.
The Antrim man says a number of the players were concerned with noise at the Titanic Exhibition Centre venue but he says it is vital the Northern Ireland event remains on the circuit.
Allen was back to his best in the UK Championship opener against China's Chen Zhe as he hit breaks of 136, 132 and 137 in his 6-4 victory to set up a second-round meeting with England's Rod Lawler.