Snooker Shoot Out: Players vote to keep ranking event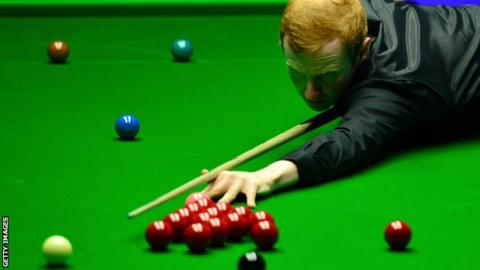 Snooker players have voted 72% in favour of keeping the one-frame Shoot Out as a ranking event.
The tour players were also given an option to scrap the tournament after last month's controversy in Watford.
World number 20 Dave Gilbert was knocked out in the quarter-finals after referee Rob Spencer failed to call a time foul on China's Xiao Guodong.
Event winner Anthony McGill said "in no way on God's Earth should this be a ranking tournament".
The Scot beat Xiao in the final and claimed the £32,000 prize money.
But World Snooker chairman Barry Hearn said he was "very pleased" with the outcome of the vote.
This is the first year the Shoot Out has counted as ranking event, after existing as a non-ranking event for the previous six years.
Each match has a maximum time of 10 minutes, with players on a shot clock of 15 seconds for the first five minutes and 10 seconds for the second half of the frame.
Top players including five-time world champion Ronnie O'Sullivan, world number one Mark Selby and Judd Trump all skipped the event.