Barry Hearn says snooker can survive without Ronnie O'Sullivan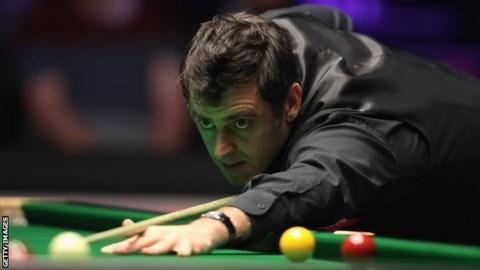 World Snooker chairman Barry Hearn says he is confident the sport can survive without Ronnie O'Sullivan.
O'Sullivan, 42, reiterated this week he will "probably" miss the 2018 World Championship in Sheffield unless the "terms and conditions" are right.
The five-time winner previously said he may film a television show instead.
"It's his choice not mine. I believe we'll see him there and if we don't I think he's making a bad choice," Hearn told BBC Two.
Hearn added on BBC Radio 5 live's Sportsweek programme: "My dream would be Ronnie lasts for ever. My other dream is I produce six more Ronnie O'Sullivans to replace him when he goes."
Hearn, who is also the chairman of the Professional Darts Corporation, says that recent events in that sport make him feel positive snooker can thrive in a post-O'Sullivan era.
"We had exactly the same thing in the world of darts - Phil Taylor has retired and everyone says 'he's the greatest player ever, what are we going to do?'.
"He retires, someone else [Rob Cross] wins, the game hits bigger figures than it's hit before and snooker will be the same."
O'Sullivan, who won his last world title in 2013, has not explained what needs to change for him to play in this year's World Championship, which begins in April, but he is unhappy with the number of matches he is being asked to play.
"I know people didn't take me seriously but I probably will miss this year's World Championship," he said this week.
"I'm not desperate to win another world title. Unless the terms and conditions are right for the World Championship I'd rather go and do something else.
"I want to try and get out of snooker as soon as I can. I don't feel like I should have to play all these matches, I have to play an extra 30 matches a year and it's just too much."
Hearn has responded by saying: "Apparently I can knock on his door and negotiate terms and conditions for him. Trust me when I tell you, that grass is not going to get trodden on."
Hearn added he has little sympathy for any player who does not want to play in every tournament on the circuit, explaining "it's called going to work".
He added: "What I would say is they are under no obligation to play in any of those events. They can pick and choose as they wish."