Mark Williams: Welshman honoured to join snooker's ultimate winners' club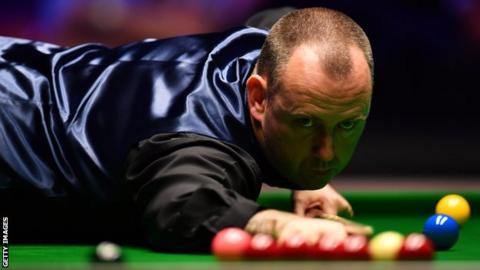 A lot has changed since Mark Williams won his first snooker ranking event.
When Williams beat John Parrott to win the 1996 Welsh Open, John Major was Prime Minister and Babylon Zoo were about to spend five weeks at the top of the charts, while the hottest hit in Hollywood was Mel Gibson's Braveheart.
Manchester City were in the process of being relegated from the Premier League, though Barcelona were enjoying some success, winning three cups with Bobby Robson at the helm and a young Pep Guardiola anchoring their midfield.
Now, some 22-years later, Williams is celebrating entry into snooker's most elite club, the sport's ultimate winning circle.
By beating Graeme Dott to claim the German Masters title this weekend, Williams became the fifth player in history to win 20 ranking events.
The Welshman, 42, won 9-1 in Berlin to join an elite group containing Stephen Hendry (36), Ronnie O'Sullivan (31), John Higgins (29) and Steve Davis (28).
"I will still call myself a 'has been' but when I do it I know I will be lying," a delighted Williams reflected.
Because this career renaissance has surprised no-one more than the potter from Cwm.
'The ultimate aim achieved'
Williams admits that reaching 20 ranking event successes has been an ambition of his for years, just one he did not feel was attainable. For context, 2017-18 is the first time in 15-years that Williams has won two events in the same season, not bad going in a little over two months.
"I had a really good tournament, I didn't have a match where I looked like I would lose," Williams told BBC Sport Wales.
"Getting to 20 wins, I said years ago when I was on 18 wins that getting to 20 was my aim and that it would be amazing if I could get there.
"I thought I would never do it, I thought I would be forever stuck on 18, but luckily enough I've made it and if I can't win anymore I can't grumble can I?
"But I will try and keep the momentum going and build on what I've been doing for the last six to eight months.
"What a turnaround, it is amazing really. You've got to put a lot of work in and I have done and now I'm reaping the rewards.
"It sounds great to be a champion again, I have totally transformed the way I approach the game.
"Eight months ago I would have thought winning two events would be impossible."
Retirement was a genuine prospect
Williams admits that for years he has considered retirement, assuming his days of winning tournaments were behind him.
Not only has his perception changed, but Williams is even willing to dream about the prospect of a third time as world champion.
"I will be going into the World Championships with more confidence than I have had for many years," he said.
"I have never really believed, I have just been trying to get there in recent years, but now, a lot of players are going to want to avoid me."
Williams says his wife Jo was the key to him deciding to continue playing.
"I had considered retiring, blame my Mrs for the fact I didn't," he said.
"I think maybe I was going to finish, but she told me there was only so much golf I could play and it sort of hit home. She's probably the reason I am still playing."
Considering his recent successes, Williams will be happy he listened.
Analysis... BBC Wales snooker reporter Gareth Blainey
"Watching Mark play recently it's amazing to think that he told me less than a year ago that he had considered retiring. He credits coach Stephen Feeney and fellow professional Lee Walker for playing a big part in his success this season. Feeney's ' Sight Right' method of coaching helps players to align themselves correctly before taking a shot.
Williams' long-potting during the German Masters final was reminiscent of the Mark Williams of 15 years ago when he last won the World Championship. If he can maintain this kind of form, I think he'll be a serious contender for this year's world title"
Ranking events won by Mark Williams
What?
When?
Opponent in final?
Welsh Open
1996
John Parrott
Grand Prix
1996
Euan Henderson
British Open
1997
Stephen Hendry
Irish Open
1998
Alan McManus
Welsh Open
1999
Stephen Hendry
Thailand Masters
1999
Alan McManus
UK Championship
1999
Matthew Stevens
Thailand Masters
2000
Stephen Hendry
World Championship
2000
Matthew Stevens
Grand Prix
2000
Ronnie O'Sullivan
China Open
2002
Anthony Hamilton
Thailand Masters
2002
Stephen Lee
UK Championship
2002
Ken Doherty
World Championship
2003
Ken Doherty
LG Cup
2003
John Higgins
China Open
2006
John Higgins
China Open
2010
Ding Junhui
German Masters
2011
Mark Selby
Northern Ireland Open
2017
Yan Bingtao
German Masters
2018
Graeme Dott
Sign up to My Sport to follow snooker news and reports on the BBC app.