Ronnie O'Sullivan 'not sure punishing players' is answer to match-fixing
Last updated on .From the section Snooker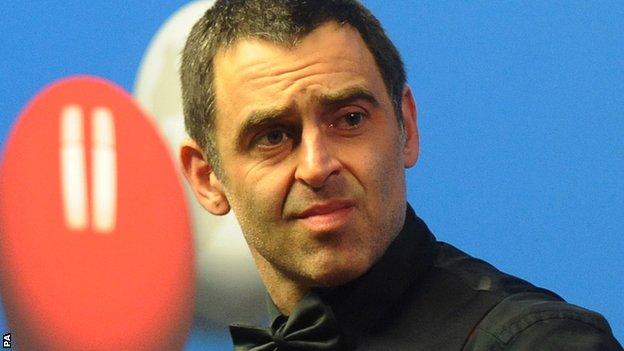 Former world champion Ronnie O'Sullivan says snooker's governing body should look at the reasons for match-fixing instead of sanctioning players.
It comes after three players were suspended by the World Professional Billiards and Snooker Association (WPBSA) over match-fixing allegations.
O'Sullivan posted on social media: "The real question should be why do the players feel the need to do this?
"I'm not sure punishing the players is the answer."
The latest players to be suspended by the WPBSA are former Welsh professional David John, along with Chinese pair Yu Delu and Cao Yupeng.
Matches involving the trio were investigated and they were found to have a case to answer.
They have been suspended until the outcome of formal hearings, which will take place at a venue and date to be confirmed.
All three players have the right to appeal against the decision.
"In terms of integrity, our governing body the WPBSA is setting an example to many other sports when it comes to detecting corruption, stamping it out and providing an appropriate deterrent to the players," said a World Snooker spokesperson.
'A players' union is the only way forward'
Earlier this month, World Snooker chairman Barry Hearn said prize money would be increasing across the board and insisted that "we are seeing the prize money going deeper into the 128 pros".
However, English five-time world champion O'Sullivan highlighted the expenses for players involved on the snooker circuit as an issue, saying they "kill the players ranked outside the top 16".
"Maybe decrease the amount of small events and make the events you do have price-effective for everyone," added the 42-year-old.
"Have more players if you like, but don't put the players in a position where to make a living becomes unsustainable.
"Everyone eating is always a good thing in my book."
O'Sullivan said he was "talking about why some players feel the need to fix matches", adding: "Once you find out why, you can then try to make positive changes to stop it happening.
"Whatever you do, no player on the main tour should end the season minus £30,000, and, trust me, there are a high percentage that are.
"A players' union is the only way forward. Players stick together and changes will happen, no players no game.
"Some players will stick but I know others who can be picked off. Divide and rule never works for the long term benefit of the all players."
'The majority of players are earning good money'
World Snooker, however, insisted prize money had "increased dramatically in recent years".
"Last season 13 tour players earned over £300,000, 34 earned over £100,000 and 61 earned over £50,000," said a spokesperson.
"Even taking into account expenses, the majority of players are earning good money.
"We have made huge progress over the past decade and we are committed to continuing this trend which will provide more earning opportunities for the players."
Sign up to My Sport to follow snooker news and reports on the BBC app.