UK Championship: Mark Allen and Joe Swail earn first-round wins in York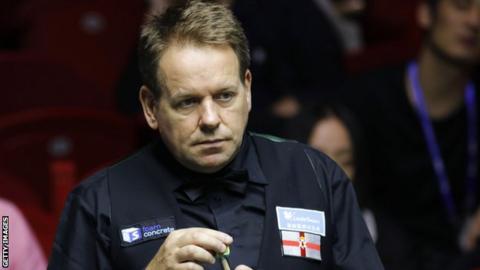 Betway UK Championship
Venue: York Barbican Dates: 27 November-9 December
Coverage: Watch live across BBC Two, BBC iPlayer, BBC Red Button, Connected TV, the BBC Sport website and mobile app from 1 December.
Northern Ireland players Mark Allen and Joe Swail have both progressed to the second round at the UK Championship.
World number seven Mark Allen, who won the International Championship in China earlier this month, defeated Egypt's world number 126 Basem Eltahhan 6-2.
Allen's win included breaks of 126 and 128 as he set up a second-round meeting with either Scotland's Rory McLeod or England's Peter Lines.
Veteran Swail came from 5-3 down to beat Welshman Michael White 6-5.
After leading 3-2, Swail's recent struggles looked set to continue as White moved two up with three to play.
But the world number 35 missed further chances as Swail, helped by a top break of 62 in frame 10, fought back to win.
"I battled in there. Michael missed a couple of chances to close out the match and that's going to hurt him but that's the nature of the game. I'm just delighted to get through," said the 49-year-old.
Swail turned professional in 1991
Swail began his professional career back in 1991 and reached consecutive world semi-finals in 2000 and 2001.
Those performances helped him achieve a career-high ranking of 10th in the 2001-02 campaign but after almost a decade of struggle - which included falling off the circuit at one stage - he is now 97th in the world.
However, Swail continues to play despite having severe misgivings about a tournament structure which sees first-round losers going home empty handed in ranking tournaments.
"We're not guaranteed anything for turning up. We all have to pay bills so the pressure is on.
"I was fortunate to be in a situation where I was guaranteed prize money, 20 or 30 years ago or whatever but these kids now coming into the game are guaranteed nothing and I think that's wrong."
Swail revealed that he convinced his own son Joe not to attempt to follow in his footsteps into the professional game a number of years ago.
"He has a full-time job now. I'm proud of him and he's earning more now than I am.
"I'm not speaking on behalf of myself. I've been there and done it and I've had a great time and great life.
"It's very, very tough for these young kids coming through. At the minute, they are minus 60 grand over the first two years."
The 2009 Welsh Open finalist revealed that he only checked the tournament draw after his match to find out that his second-round opponent will be another Welshman, world number 102 Jak Jones.
"I don't even look that far any more because you don't expect to win too many matches. I've got Jak Jones now. Another top player. Anything can happen. We'll see how it goes."
Sign up to My Sport to follow snooker news and reports on the BBC app.