UK Championship: 'I'm lucky to be through' - John Higgins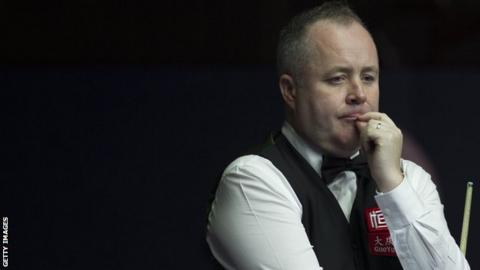 John Higgins was not shocked he struggled to beat Thailand's Dechawat Poomjaeng on the first day of the UK Championship in York.
Higgins saw off the unpredictable Poomjaeng 6-5 to set up a clash with fellow Scot Alan McManus, but afterwards he lamented his poor form.
"It's just the way I've been playing all year really," he told BBC Sport.
"It's no surprise to me how badly I struggled. So I'm really lucky to be through."
He added: "I don't know how I'll play the next game. It's pot luck really."
Three-time winner Higgins has been practising with McManus, 47, and says there is 'nobody that has more respect for Alan'.
He said: "I know how tough a player he is, he still looks a young man, he keeps on practising the same way he's always done.
"I know he needs to win a few matches his year because he's on the borderline of falling off the tour, but I look forward to playing Alan."
Graeme Dott also made it through to the next round after a 6-2 win over Oliver Lines, and was relieved to end a run of defeats.
"It was just about getting the game won," said Dott. "It didn't really matter how pretty it was.
"I've lost three games in a row so I was under a bit of pressure in that match."