UK Championship: Rod Lawler defends slow style after Barry Hearn criticism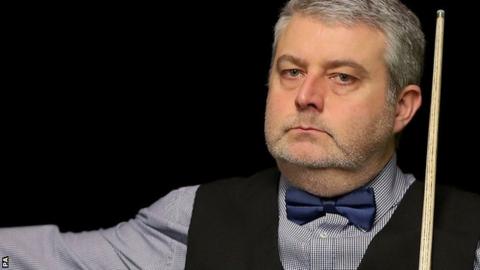 Betway UK Championship
Venue: York Barbican Dates: 27 November-9 December
Coverage: Watch live across BBC Two, BBC iPlayer, BBC Red Button, Connected TV, the BBC Sport website and mobile app from 1 December.
Rod Lawler defended his slow style after World Snooker chairman Barry Hearn called his ponderous play "diabolical".
Journeyman professional Lawler, nicknamed "Rod the Plod", had an average shot time of 39.8 seconds in his UK Championship first-round win over Anthony Hamilton.
The match had to be pulled after it failed to play to a finish in Wednesday's afternoon session, with Lawler, 47, leading 5-1.
The Liverpool player won the first frame when the match resumed in the evening.
Hamilton's average match shot time was 33.4 seconds, prompting snooker boss Hearn to get involved in a debate about speed of play after being sent a screen grab on Twitter.
Lawler, whose season average is 33.4 seconds, said: "I am not going to reply to that. I have to keep playing the way I can and doing the best I can.
"Shot times are difficult to change when you have played so long, and I get involved in battle-type matches anyway.
"I always give it 110%. I never give up on a match and I have never been involved in anything untoward in the game and I am proud of that after 27 years. So if my shot clock is a little bit slow, big deal."
Ronnie O'Sullivan's season average of 17.85 seconds puts him third, with Judd Trump fifth on 18.39. Thailand's Thepchaiya Un-Nooh is quickest on 16.26 seconds and the majority of players dip below 25 seconds.
Lawler's average shot time is the slowest recorded on tour.
Hearn has previously vowed to tackle slow play, and average shot times are being published this season as part of a "name and shame" approach.
He said players have to recognise they are in the "entertainment industry".
"We're not going to tap someone on the shoulder and say 'you're on the clock'," Hearn said in April at this year's World Championship. "But we will look at their figures, their shot times, over a three-monthly period initially.
"If we feel at the end of the season that we need to incorporate this in the rules of play, then we'll take that decision then."
Lawler, who turned professional in 1990, has reached one ranking event final during his career and has one minor ranking event win, said: "I have been playing the game too long to change now so I will keep trying the best I can the way I am.
"It's hard. Nobody gives you anything in this game. Everyone is fighting for their livelihoods. Everyone has different pressures and that all comes into play.
"There are no easy games. If you got an easy game, then you could run round the table. I suppose if you are one of the top guys there are a lot of easy games because they are the top players. That's why they play so quick."
Sign up to My Sport to follow snooker news and reports on the BBC app.