UK Championship: Beaten Jak Jones claims referee told players to 'attack'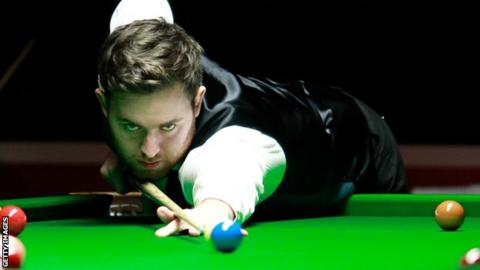 Welsh snooker player Jak Jones has blamed the referee for his exit from the UK Snooker Championship.
The 25-year-old claims he was told by Leo Scullion to play "more attacking snooker" during his third round game against Thailand's Sunny Akani, affecting his form.
Jones said his "head was gone" after the conversation and after losing four frames in a row, suffered a 6-2 defeat.
"How can a referee who doesn't play tell us how to play?" Jones said.
World Snooker declined to comment on Jones' remarks about the Scottish official.
Jones said Scullion had spoken to him at the mid-session interval and told him and Akani to play more attacking snooker after a slow start by both players who were averaging around 30 seconds a shot.
"I didn't fully understand what he meant and I thought it was unfair because Sunny doesn't speak English," Jones added.
"He pretty much spoke to me without speaking to him.
"I've never heard of a referee saying about us playing more attacking.
"I feel like the referee changes the game by getting involved when he didn't need to."