Scottish Open: Mark Allen 'doesn't deserve to be in final' after 'disrespecting' tournament
Last updated on .From the section Snooker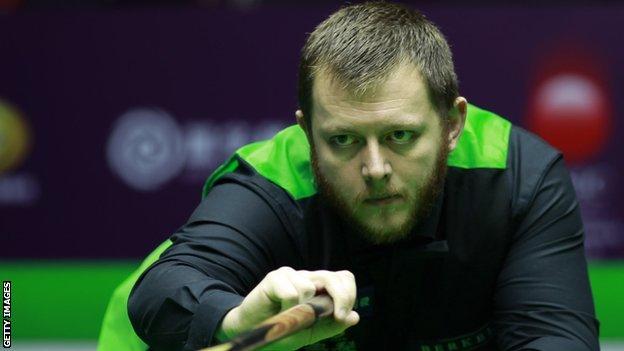 Northern Ireland's Mark Allen says his place in Sunday's Scottish Open final is "undeserved" following a week of too much drinking at the Glasgow event.
Allen, 32, fought back from 4-0 and 5-2 down to clinch a 6-5 semi-final win over Welshman Daniel Wells but then lambasted his own approach this week.
"I don't deserve to be in the final the way I've treated the tournament this week," Allen told Eurosport.
The world number six added that he had "disrespected" the world ranking event.
Allen could only manage a top break of 24 in the opening four frames in Saturday's match as Neath native Wells, playing in his first ranking semi-final, punished a succession of misses by the world number six.
Allen improves after interval drinks
Instead of going to the practice table, the Masters champion opted to have a couple of drinks during the interval and he seemed a different player in the closing seven frames as the nerves began to build in world number 66 Wells.
"I had a couple of drinks at the interval and felt a bit better after it because I was really struggling out there," added last week's beaten UK Championship finalist.
"Last night was the earliest I've been to bed and the least I've drunk any night [this week]. I expected to feel good today but I felt terrible.
"That's what I was expecting early in the week because when I came here, I said I was going to enjoy myself.
"I've managed to scrape through a few matches. I was all over the place. I'm embarrassed to say I was hungover and stuff."
Allen suggested he was unlikely to have an early night on Saturday before Sunday's final against Shaun Murphy, who defeated Judd Trump 6-3 in the second semi-final.
"I could stay in tonight and go to bed early and feel horrendous tomorrow," said Allen.
"I would deserve to feel that way for the disrespect I've showed to the tournament all week. So I may as well go out and have a good time."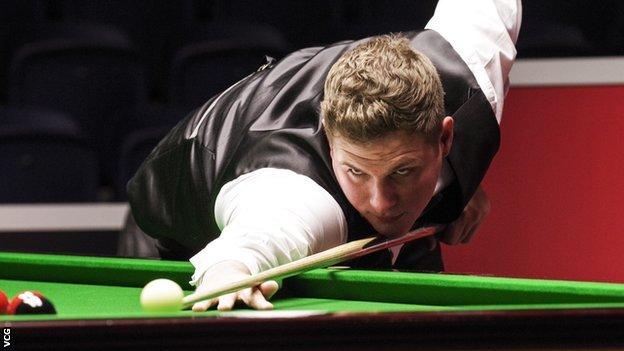 Wells left rueing foul in eighth frame
Wells was left to regret an incident in the eighth frame, when 5-2 up, as he fouled by touching the green with his shirt as he sized up a match-winning chance.
Instead, Allen profited from the well-placed balls to notch a frame-winning break run of 79 and century breaks of 106 and 129 helped the Antrim man clinch his comeback success.
After winning the opening four frames, helped by a top break of 56 in the third, Wells looked set to go 5-0 as he led only for to lose position as Allen finally opened his account thanks to a 55 clearance.
Allen won the next with a 59 break, but Wells looked to have struck a major psychological blow as he potted the final red and colours to snatch the seventh frame on the black.
But then came Wells' crucial foul in the eighth and as the Welshman turned down a number of difficult chances in the closing frames, Allen found his form helped by his two centuries.
Sunday's final will see Allen aim for a second ranking tournament triumph this season following his International Championship success in China last month.