Snooker Shoot Out: Thepchaiya Un-Nooh wins Shoot Out
Last updated on .From the section Snooker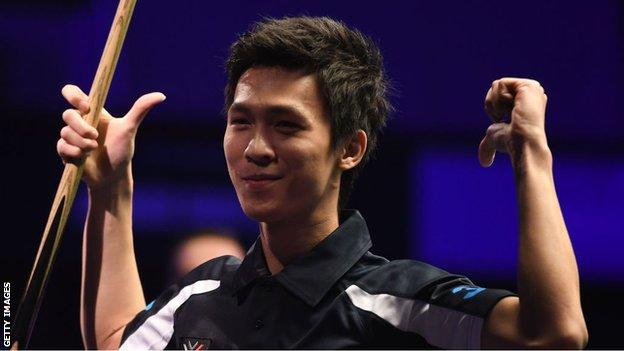 Thai left-hander Thepchaiya Un-Nooh beat England's Michael Holt to win the Snooker Shoot Out in Watford.
Un-Nooh beat former world champion Stuart Bingham on his way to the final and becomes the first Asian winner of the tournament.
He beat 24-year-old Welshman Jamie Clarke in his semi-final, who is in his first season as a professional.
Nottingham's Holt, 40, had beaten 2015 Shoot Out winner Michael White, from Wales, to secure a place in the final.
Before that, he had defeated 16-year-old English wildcard Ryan Davies in the last 16.
Six-time world finalist Jimmy White, 56, who had beaten 11-time women's champion Reanne Evans and John Astley, went out at the last-32 stage, 65-18 to Rory McLeod.
Shoot Out matches are one frame and a maximum of 10 minutes. Any foul allows the opponent to place the cue ball where they wish, with 15 seconds per shot permitted for the first five minutes of the match and 10 seconds per shot for the final five.
Sign up to My Sport to follow snooker news on the BBC app.