Poole & Eastbourne disappointed at European Cup postponement
Last updated on .From the section Motorsport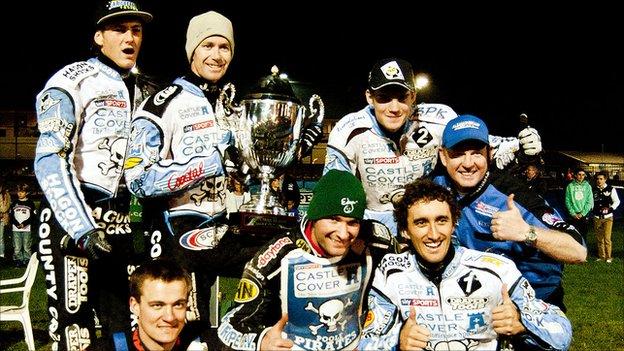 Poole Pirates and Eastbourne Eagles have been left disappointed by news that speedway's proposed European Cup has been postponed until 2013.
The Pirates and Eagles, who were the Elite League's top two clubs last season, were set to compete against rivals from Sweden and Denmark.
Fixture dates had been agreed but a disagreement over TV rights is thought to be behind the postponement.
This year's competition was set to be the inaugural European Cup.
"I suppose I should have seen this coming as the organisers have been quiet on the subject lately, but it still comes as a great blow to the club, its supporters and sponsors," said Poole co-promoter Gordon Pairman.
"We had put the dates in our fixture list and even had TV coverage agreed with Sky Sports who do so much for British speedway, but sadly we've now got to face up to the fact that we will not be taking the club into Europe this year."
Pairman added: "I have spoken with Eastbourne's co-promoter Mike Bellerby and he is equally mystified as well as disappointed.
"He gathered that there has been some disagreement over the rights to these meetings, but frankly this should have been sorted out months ago.
"I know there has been some opposition and resistance to these meetings but my view is that if you're not looking innovate then you are going backwards."
Bellerby told BBC Sussex: "It's very disappointing because we were gearing ourselves up for taking part. It's a real blow it isn't going to happen.
"I don't think it will affect us financially. We'll be focused on the Elite League title. We want to go one step further and win the play-off final.
"I don't think [re-entering] the Knock-Out Cup is a possibility. The draw has all been done and dusted and the dates are in the fixture list."