Speedway: Elite League preview
Last updated on .From the section Speedway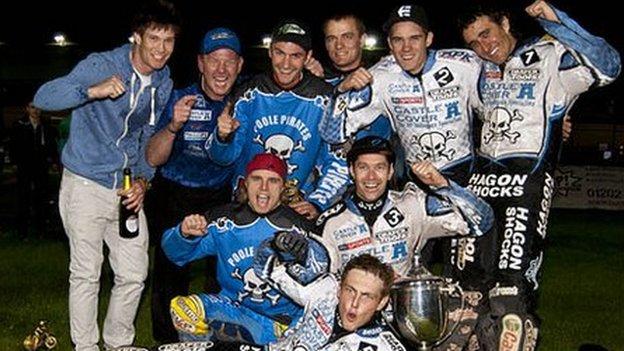 The 2012 Elite League season is upon us and BBC Sport has a rundown of the 10 teams making up this year's campaign.
Poole Pirates are favourites to retain their Grand Final crown, but can anybody else make a charge to upset the odds?
Ipswich Witches boss and former England international Chris Louis gives us an insight into each of the line-ups.
Belle Vue Aces
Last season: 7th
2012 line-up: Rory Schlein, Charlie Gjedde (double-up), Adam Shields, Patrick Hougaard, Claus Vissing (d/u), Chris Schramm, Linus Eklof, Ulrich Osterguaard (reserve, d/u), Josh Grajczonek (reserve, d/u)
Chris Louis says: "I don't think they'll be as strong at home with the changes they've made. Rory Schlein will need to lead from the front and make himself a genuine established number one. Adam Shields could be refreshed after moving from Lakeside and he could be the key to how much success they have."
Team manager Jim Lynch on rider Patrick Hougaard: "Last year he had a couple of niggling injuries just when he was starting to ride OK. He's a seven-point plus rider so we want him to start producing that form. He could be one of the stars of the side, and if he is, then we're going to have a very good season."
Birmingham Brummies
Last season: 9th
2012 line-up: Bjarne Pedersen, Sebastian Ulamek, Ben Barker (d/u), Daniel King, Martin Smolinski, Josh Auty (d/u), Chris Mills, Magnus Karlsson, Richie Hawkins (reserve, d/u)
Chris Louis says: "They didn't do too badly in their first year back. They look pretty solid. They won't want to be missing Ben Barker too often. He's in a doubling-up position and when he's missing they look a little bit weaker. And as long as Sebastian Ulamek finds his Elite League feet they'll look pretty solid."
Team manager Graham Drury: "I'm trying to get balance throughout the engine room, at number three and four. Ben Barker and Gary King ride well together and I'll think we'll be very strong at reserve. Really, we haven't got a weak point."
Coventry Bees
Last season: 5th
2012 line-up: Chris Harris, Edward Kennett, Scott Nicholls, Kenni Larsen, Leigh Lanham (d/u), Henning Bager, Adam Roynon (d/u), Aaron Summers (reserve, d/u), Jason Bunyan (reserve, d/u)
Chris Louis says: "It's been a much better preparation for them in many ways. They've had a change of leadership with Mick Horton coming in. I like the look of the side. It's very solid at the top. They've got Brits available in all but two of the positions, which will be good for team spirit."
Rider Scott Nicholls: "Last year was a year to forget (at Swindon). On a positive note, it's allowed Coventry to build a stronger side as I've come in on a false average. When you've had a tough season, my instinct is to come out and do even better the following year, so I'm looking forward to it."
Eastbourne Eagles
Last season: Runners-up
2012 line-up: Joonas Kylmakorpi, Lewis Bridger, Simon Gustafsson, Lukas Dryml, Cameron Woodward, Denis Gizatullin (asset), Timo Lahti
Chris Louis says: "On the basis that they've only made one change I think we can expect them to be there or thereabouts. They lost Bjarne Pedersen and brought in Denis Gizatullin, and he will be the key. We know what to expect from the rest. They were a good solid side last year, did very well and it's about how Gizatullin settles down because it's tight at Arlington and he's a Russian who is used to wide open spaces."
Co-promoter Mike Bellerby: "We've got six riders back who are all capable of improving their averages and there's a great team atmosphere. The team has got the capabilities of going one better this year and actually winning the championship. I genuinely believe that."
King's Lynn Stars
Last season: 3rd, play-off semi-final
2012 line-up: Niels Iversen, Mads Korneliussen, Daniel Nermark, Maciej Janowski, Kevin Wolbert, David Howe (d/u), Filip Sitera (d/u), Jordan Frampton (reserve, d/u), Michael Palm Toft (reserve, d/u)
Chris Louis says: "They proved a few people wrong last season, including myself. That's the type of club they are. They had the change of league and that refreshed the club. Again, they look pretty unbeatable at home. A trump card for them could be David Howe when he's available, he's riding better than I've ever seen him."
Rider Mads Korneliussen on a new-look team: "We all know each other from riding around the world. But we've done some team bonding with laser shooting and football. It's looking really good. We want to make the play-offs but after last year it's be going to be hard to do it all again because last year we were underdogs."
Lakeside Hammers
Last season: 4th, play-off semi-final
2012 line-up: Peter Karlsson, Lee Richardson, Davey Watt, Stuart Robson (d/u), Robert Mear, Kim Nilsson, Justin Sedgmen (d/u), Kauko Nieminen (reserve, d/u), Ritchie Worrall (reserve, d/u)
Chris Louis says: "I think they'll be strong at home. Their team is built to win at home. They're all Lakeside specialists and it is a bit of a special track. If they're going to progress and be more than an 'almost team' then the progress of Kim Nilsson will be key. He hasn't really moved on very quickly but if he can speed up his progression they'll maybe pick up a few points away from home."
Co-promoter Jon Cook: "We've got great expectations. We're pleased with the way the team has come together. This year we feel we've got a particularly good chance."
Peterborough Panthers
Last season: 6th
2012 line-up: Kenneth Bjerre, Linus Sundstrom, Oliver Allen, Lasse Bjerre (d/u), Jesper B Monberg, Michael Jepsen Jensen (asset), Richard Lawson (d/u), Rene Bach (reserve, d/u), Kyle Newman (reserve, d/u)
Chris Louis says: "I think the Peterborough fans have got every right to be expectant this year. It's a good side. It has potential written all over it which isn't always realised. Guys like Linus Sundstrom, Lasse Bjerre, Michael Jepsen Jensen and Richard Lawson, if they can show what they're promising they could peak just at the end of the season when it comes to the play-offs."
Team manager Jan Staechmann: "We're going to have three or four riders that are battling to stay out of the reserve spot and that's an ideal scenario in my book. I'm very encouraged by everyone's performance."
Poole Pirates
Last season: Champions
2012 line-up: Chris Holder, Darcy Ward, Adrian Miedzinski, Dennis Andersson, Sam Masters (d/u), Ricky Kling, Todd Kurtz, Ludvig Lindgren (reserve, d/u)
Chris Louis says: "It's difficult to say if they can emulate what they did last season. They may depend too much on Chris Holder and Darcy Ward too often. It's always difficult to rule Poole out of silverware because they keep coming back for more. But this year, on occasions, they could depend too much on the top two."
Promoter Matt Ford: "The most important thing was to keep Chris Holder and Darcy Ward together. The rest of the team around them is now very good. I've seen that we're favourites again and we don't take a lot of notice of that but it shows we've done something right. "
Swindon Robins
Last season: 10th (bottom)
2012 line-up: Troy Batchelor, Hans Andersen, Simon Stead, Jason Doyle (d/u), Nick Morris, Peter Kildemand, Kenny Ingalls (d/u), Sebastian Alden (reserve, d/u), Robin Aspegren (reserve, d/u)
Chris Louis says: "Swindon had a torrid year last season. They're led at the top by two very determined characters in Troy Batchelor and Hans Anderson. Hopefully those personalities won't clash. If they don't and the pair get on then they could be strong. They look strong at home and a lot will depend on the availability of Nick Morris."
Rider Hans Andersen: "There's been a cloud hanging over Swindon because of various reasons but we're turning a corner now. It's not like an old Swindon side that's going to be good again, it's like the start of a new era."
Wolverhampton Wolves
Last season: 8th
2012 line-up: Freddie Lindgren, Tai Woffinden, Nicolai Klindt, Tyron Proctor, Pontus Aspegren (asset), Lukasz Sowka (asset), Ricky Wells (reserve, d/u), Thomas Jorgensen (reserve, d/u)
Chris Louis says: "Their three changes have been at the bottom end and three new guys at the bottom can put a lot of pressure on the heat leaders. It's really about that third heat leader position between Nicolai Klindt and Tyrone Proctor and them pushing each other to see who is best. If they don't perform as heat leaders they will be a team dependent on the top two too many times."
Team manager Peter Adams: "We've got a couple of unknowns in our team but they look fairly accomplished. You just hope that you've got the blend right. What we won't do this year is wait too long to make a change if it's necessary."
Compiled by Chris Osborne and Caroline Chapman