Simon Stead wants to repay Swindon Robins faith
Last updated on .From the section Speedway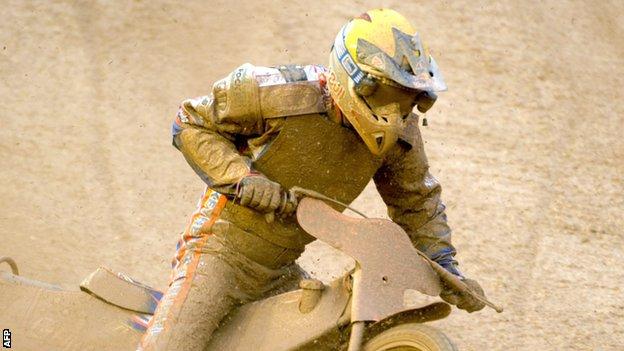 Simon Stead says he is grateful to Swindon Robins for giving him a "second chance" to prove himself at the club.
Stead, 29, had an injury-hit season last year and was told he could not be guaranteed a place for the Robins' forthcoming Elite League campaign.
However, he agreed a new deal in December and told BBC Wiltshire: "To get my team spot back is fantastic.
"It leaves me with a challenge of repaying them for having faith in me and giving me a second chance."
He continued: "It feels good to be back as there was a time in the winter when I didn't think I was going to be.
"I didn't want to go anywhere else - it was the only place I wanted to be."
The three-time British Under-21 Champion is the only member of Swindon's 2011 side to retain his place and is determined to bounce back from a disappointing year.
He was sidelined for much of last season with a serious rib injury while under-par performances on the track meant the Robins finished bottom of the Elite League.
"I started well - pre-season testing had gone fantastic," added Stead. "I felt great and I was really looking forward to it.
"The injury came at the wrong time and left me short of track time when I did return. I was chasing my tail all season.
"Hopefully we've put everything in place to hit the ground running this year and we'll make up for what was a poor season last year and put things right."
Swindon start their campaign at home to Birmingham on Thursday, 5 April.