Phil Morris off to winning start as Brummies' new co-boss
Last updated on .From the section Speedway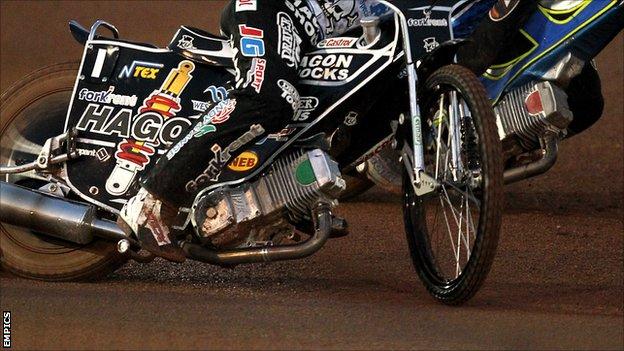 New Birmingham Brummies co-boss Phil Morris got off to a winning start with Tuesday night's 50-42 Elite League derby win at home to Wolverhampton.
Reserve Josh Auty led the way, scoring 13+1 against a Wolves side over reliant on British youngster Tai Woffinden (14) and Freddie Lindgren (12+2).
Woffinden dropped just one point from five rides, combining with skipper Lindgren for two late 5-1s.
But Wolves' top two lacked support from their middle and lower order.
The home side took charge with a 5-1 in Heat 8 to put them eight points up.
And, when Danny King held Woffinden at bay in the next race, Wolves, making their first Elite League appearance of the season, were into tactical ride territory.
But Lindgren was held at bay by a fine ride by Sebastian Ulamek in heat one - and the Brummies took full advantage with a 5-1 from King and Auty over Ricky Wells and Nicolai Klindt in the next.
The Brummies' first win of the season lifts them up to sixth in the early Elite League table.
"It was hard to keep down the top two of Wolverhampton," said Morris, who has been recruited at Perry Barr to take charge of home matches.
"But we were solid throughout the team and it was a brilliant performance.
"Josh has suddenly jumped to another gear this year.
"It's a great result, getting all three points was the plan and it's a good start for me."
Wolves manager Peter Adams said: "We feared a bit of a backlash after Birmingham's last two home results, and they were very solid.
"They had a star reserve in Josh, which we didn't, and it just wasn't good enough.
"We've got to get rid of these inconsistencies. We can't live off Woffinden and Lindgren all season long, we've got to have people contributing from one-to-seven and if these riders can't do that then we might have to find some who can."
SCOREBOARD
Birmingham: Josh Auty 13+1, Ben Barker 8+2, Danny King 8+1, Sebastian Ulamek 8, Bjarne Pedersen 7+1, Martin Smolinski 6+2, Chris Mills 0.
Wolverhampton: Tai Woffinden 14, Freddie Lindgren 12+2, Nicolai Klindt 4+1, Ty Proctor 4, Pontus Aspgren 3+2, Thomas Jorgensen 3, Ricky Wells 2.