Plymouth Devils suffer 12-point Somerset defeat
By Mike Tamblin
at St Boniface Arena
Last updated on .From the section Speedway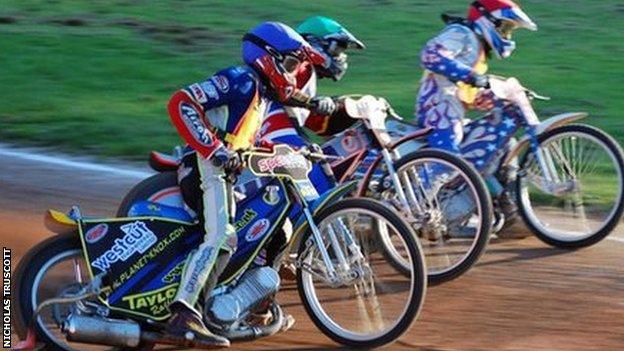 Plymouth Devils suffered their first defeat of the season, going down 51-39 to local rivals Somerset Rebels.
Captain Ben Barker scored his second consecutive 15-point maximum but the all-round strength of the visitors proved decisive.
Plymouth were behind as early as heat two and never got back on level terms with their South West rivals.
The match had controversy in heat nine as the referee released the start tapes without showing the green light.
With the Devils pair of Ryan Fisher and James Holder left at the tapes expecting the race to be re-run the Rebels duo cruised to a 5-1 heat win effectively ending Plymouth's chances of victory.
It was a frustrating weekend for Plymouth as their scheduled away matches at Ipswich and Somerset on Thursday and Friday were cancelled due to rain.