Speedway: Jan O Pedersen defends speedway safety record
Last updated on .From the section Speedway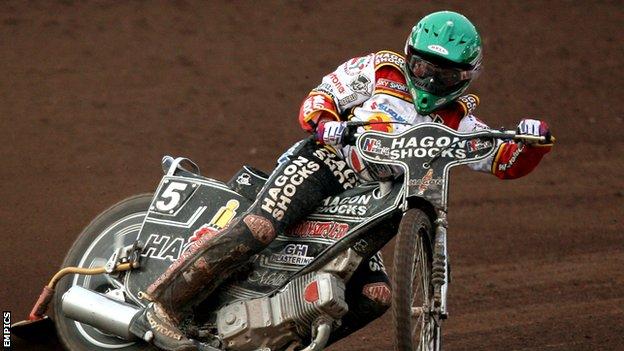 Midlands speedway legend Jan O Pedersen has defended the safety of the sport after a scarred week which claimed the life of British rider Lee Richardson.
But Pedersen, whose own career ended 20 years ago when he broke his back in a crash, insists that speedway is as safe as it can be for a sport of such risks.
"It is so sad for everyone when someone loses their life. But accidents happen and life must go on," he told BBC WM.
"Nobody would have felt like going out racing again this week, but we're all professionals. We know the risks.
"You feel horrible when you go out for the first one but then you get back into the mode of racing and you just go out and do it."
Pedersen was part of the successful Cradley Heathens team in the mid-1980s before going on to win the World Championship in 1991.
The following year he broke his back in a crash and never raced competitively again - but he acknowledges that safety standards at speedway tracks have since improved markedly.
"The air fence has been a great success," he said.
"It doesn't mean you don't get hurt. It's just the initial impact when you go out into a corner is a lot less.
"You can't put a safety fence all the way round as it does not work. People were getting caught on it.
"If you're unlucky and you don't hit the safety fence, then of course it still hurts very much, just as it does hitting the track.
"People say we've got no brakes. We slide. That's our way of braking.
"But any bike rider has to be tough as it's the body that takes the first impact.
"It doesn't happen very often but, when it does, it has a big impact."