Plymouth Devils take initiative in KO Cup tie against Glasgow
By Mike Tamblin
at St Boniface Arena
Last updated on .From the section Speedway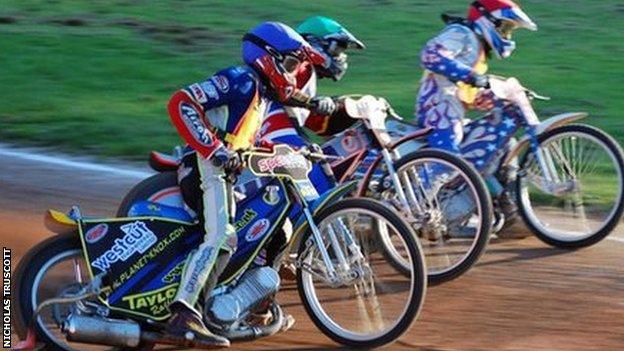 Plymouth Devils beat Glasgow Tigers 52-38 in the first leg of their Knockout Cup tie at the St Boniface Arena.
Great Britain International Ben Barker top scored with 14 points, supported well by Ryan Fisher (12+1).
Plymouth took an early eight-point lead with Barker and Nicki Glanz winning heats one and two respectively.
It was a lead they never let slip and a final heat 5-1 win courtesy of Barker and Fisher meant Plymouth will defend a 14-point lead in the second leg.
"If we go up to Glasgow and perform as we did at Ipswich on Thursday evening, when we only lost by one point in the League Cup, there is no reason why we should not progress into the next round," said Plymouth promoter Mike Bowden.
Devils concluded a busy weekend on Sunday night by losing 47-46 at Leicester Lions in the League Cup.
It was their second single-point away defeat in four days following their loss at Ipswich on Thursday.
American Fisher produced a faultless display, recording his first 18-point maximum for the club.
Plymouth took a bonus point from the loss but cannot progress any further in the competition.