West Midlands speedway: Green light to return for Tai Woffinden
Last updated on .From the section Speedway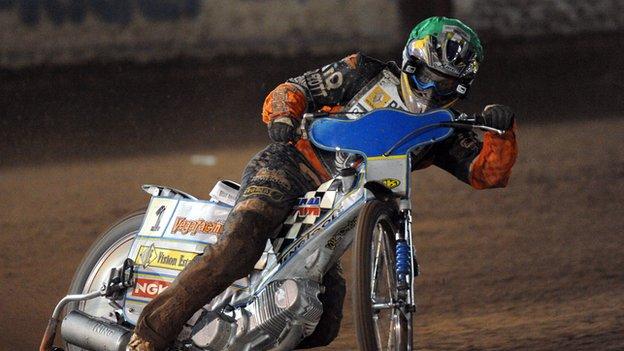 Wolverhampton star Tai Woffinden has been given the green light to return to action following a big injury scare.
The Great Britain star has missed the last six weeks after breaking his wrist in an individual meeting at Monmore.
And there were fears that he might be ruled out for the rest of the season.
But Woffinden has been given the all-clear after a scan and, although it was too soon for Thursday's defeat at Swindon, he is expected to return for Monday's derby clash with Birmingham.
"It's healing, it's not healed," said Woffinden. "But I am allowed to start riding again.
"The doctor said I could start riding. He didn't say racing but I'm going to take riding as meaning racing.
"I'm going jet skiing tomorrow morning, then I'm going to practice at Sheffield on Thursday after the meeting. And I'm going to fly to Poland on Friday morning and practise there."
Wolves, third from bottom of the Elite League after losing four of their six home matches in all competitions, have also been without Danish rider Nicolai Klindt, who has been out since April with a broken shoulder.
But they will be significantly strengthened by Woffinden's return.
"It's not good enough for me or the Wolverhampton public," owner Chris Van Straaten told BBC WM after Monday's home defeat by Poole. "On tonight's performance, only Freddie Lindgren's place is safe.
"There seems a lack of fire from the team."
Wolves are still left searching for their first away point of the season following Thursday's heavy 60-33 defeat at Swindon.
Swindon: Troy Batchelor 14, Peter Kildemand 11+3, Hans Andersen 11, Jason Doyle 10+1, Simon Stead 7+2, Nick Morris 5+2, Ashley Birks 2+1
Wolves: Freddie Lindgren 13, Ty Proctor 8+1, Kenny Ingalls 5+1, Thomas Jorgensen 4, Rory Schlein 3+1, Lukasz Sowka 0, Robert Miskowiak R/R.
COVENTRY
Coventry's tripm Belle Vue on Monday night has been called off due to the weather.
The Bees crashed to their second defeat in 24 hours, following their 49-41 loss at Peterborough with Friday night's 38-52 home defeat by Eastbourne.
They now face two more away fixtures this week, at King's Lynn and Birmingham, before hosting Wolves next Friday night.
Scott Nicholls returned from a broken collarbone to ride on Friday night, but aggravated his injury and would have missed Monday's trip to Kirkmanshulme Lane.
Chris Harris and Kenni Larsen were due to return, having missed the Eastbourne fixture as they were riding in the Czech Republic in Saturday's Grand Prix qualifier.
BIRMINGHAM
The Brummies' Elite League match with Eastbourne at Perry Barr on Thursday night was called off due to the wet weather.
Their next meeting is at Monmore against Wolves on Monday night.
DUDLEY HEATHENS
The Heathens claimed a club record 69-23 demolition of Buxton at Monmore Green on Tuesday night.
Heathens, who have won all six of their National League outings, made it 10 straight wins in all competitions, Tom Perry, Ashley Morris and skipper Adam Roynon all proving unbeaten on the night.
Heathens: Tom Perry 14+1, Ashley Morris 13+2, Adam Roynon 12, Byron Bekker 8+2, Darryl Ritchings 8+2, Dan Greenwood 8+2, James White-Williams 6.