Wolverhampton Wolves coach calls Peterborough cheats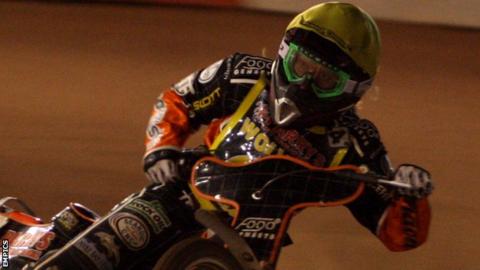 Wolverhampton Wolves head coach Peter Adams has called Peterborough Panthers cheats, following their 46-44 Elite League defeat on Thursday.
Adams was unhappy with the state of the track, and particularly the start line, at the East of England Show Ground.
"It's just blatant cheating. You never, ever see this at Wolverhampton. Perhaps we should adopt these kind of tactics," he told BBC WM.
Peterborough have denied any wrongdoing and called the claims "unsporting".
Wolves led for most of the night but the Panthers turned it around in the final heat.
The results means Peterborough keep their slim hopes of a play-off spot alive in seventh place, with Wolves three points below them in eighth.
"We were cheated out of the victory, it is as simple as that," added Adams.
"They haven't graded the start line all night and we saw the result when the race took off.
"I have to say they haven't shaken hands with any of the Peterborough contingent because it was just blatant cheating."
But in a statement sent to BBC Sport, the Panthers said: "The management of Peterborough Panthers is both surprised and insulted to hear the slanderous and libellous comments levied by the Wolverhampton Wolves management.
"It is customary at the East of England Showground to grade the track after heats 2-4-7-10-12 and 14, and sometimes even more than that, depending on track conditions. It is also customary that the track is re-graded more extensively including the starts, during an interval after heat 10.
"However on Thursday night, due to the weather, the interval was cancelled in order to be able to complete the meeting. The track was re-graded after heat 12, including the starts, ensuring the conditions were as safe and optimal as possible for both sets of riders.
"The referee, whose position is level with the start line, verified this fact verbally to the Wolves management that all four gates had in fact been prepared equally and fairly."
Panthers promoter Rick Frost: "I find it both sad and insulting to be falsely accused of cheating, particularly by an experienced promoter and an experienced team manager, and to go public regarding something which may well have been said in the heat of the moment is inexcusable and can only be to the detriment of our sport."