Plymouth Devils record biggest win of 2012
Last updated on .From the section Speedway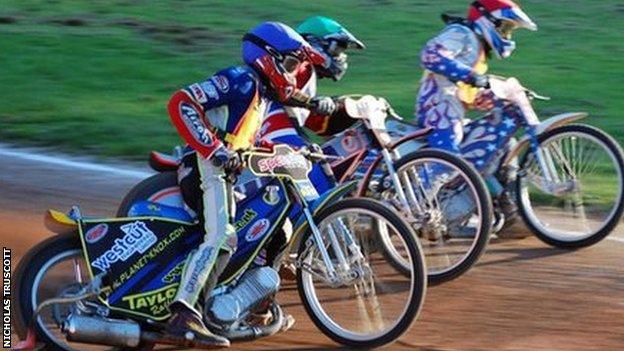 Plymouth Devils recorded their biggest win of the season as they beat bottom-of-the-table Edinburgh 57-36 at the St Boniface Arena on Saturday evening.
Ben Barker scored a maximum from his five rides while teammate Corey Gathercole dropped only one point.
The win saw Plymouth move two points off Edinburgh in third-from-bottom in the Premier League.
But Plymouth's away woes continue after they were beaten by Edinburgh 55-41 in Scotland on Friday night.
"It was nice to get revenge over Edinburgh after losing up there on Friday," said Plymouth promoter Mike Bowden.
"It was an excellent team performance with outstanding performances by Ben Barker and Cory Gathercole.
"Robert Ksiezak did well with a couple of race wins and Ben Reade is proving to be a good signing at reserve."