West Midlands speedway: Scott Nicholls wins seventh British title
Last updated on .From the section Speedway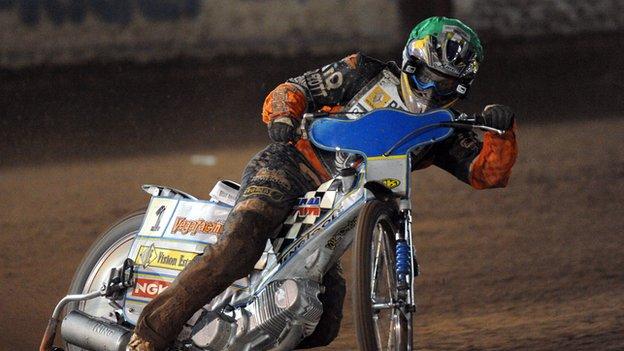 Scott Nicholls won the British Championship title for a record seventh time at Monmore on Monday night.
Fellow Coventry rider Chris Harris, a three-times winner, finished second, with another Bees man Edward Kennett also making the Grand Final.
Wolves' Tai Woffinden came third on his home track in the annual event.
Nicholls' victory takes him clear in the list of all-time winners, ahead of Barry Briggs, who claimed the British title six times back in the 1960s.
"Me and Chris are a bit like magnets," said Nicholls. "But we had a good, fair race. It was hard, we pushed each other hard but we left each other room.
"It's also great for Coventry. It was sad that Eddie crashed out but to have three riders in the Final is good for us. Hopefully now we can stack up some wins."
After finishing joint top in qualification on 13 points apiece, Nicholls and Kennett were then joined by Woffinden and Harris, who finished first and second in the semi, to ensure that the same four riders contested the final as in 2011.
The race followed a similar pattern to last year, Kennett's challenge again ending with disqualification following a fourth bend crash when Woffinden was leading.
In the re-run Woffinden did not make such a good start and it turned into a private battle between Nicholls and Harris.
"I'm not happy about it," said Woffinden. "I'm so disappointed because I was desperate for that title.
"I thought I was on my way to the win in the first staging. But that's speedway. I guess I will have to do it all again next year."
Qualifying heats: Scott Nicholls 13, Edward Kennett 13, Chris Harris 12, Tai Woffinden 12, Ben Barker 11, Simon Stead 11, Craig Cook 10, Adam Roynon 7, Stuart Robson 7, Ricky Ashworth 7, Leigh Lanham 6, Josh Auty 4, Joe Haines 2, Robert Mear 2, Tom Perry 2, Richard Lawson 1, Danny King 0.
Semi-final: 1. Woffinden, 2. Harris, 3. Stead, 4. Barker
Final: 1. Nicholls, 2. Harris, 3. Woffinden, 4. Kennett (disq)
BIRMINGHAM BRUMMIES
Birmingham must check on the fitness of captain Danny King ahead of Thursday's big meeting with Swindon at Perry Barr (19:30 BST).
King suffered rib injuries after crashing out of Monday night's British Final at Monmore.
"I'm seeing the physio and my local doctor on Tuesday to see what they think," said King. "But it hurts. And what also hurt was the decision to exclude me when it clearly wasn't my fault."
Birmingham team-mate Ben Barker made the semi-final with 11 points from five outings, but it was a disappointing night for Brummies youngster Josh Auty who managed just four points.
Meanwhile, Tomasz Piszcz is out of hospital following his crash against Belle Vue last week, but he still faces a spell on the sidelines after suffering concussion and neck damage.
Brummies have booked former favourite Kyle Newman to guest for Piszcz on Thursday night.
Co-promoter Graham Drury said: "Tomasz is out of hospital and returning to Poland today, but is battered and bruised and suffering from terrible headaches.
"An MRI scan over the weekend thankfully revealed no broken bones, and we will keep in touch with him closely to monitor his progress."