Speedway: King's Lynn Stars condemn match result change
Last updated on .From the section Speedway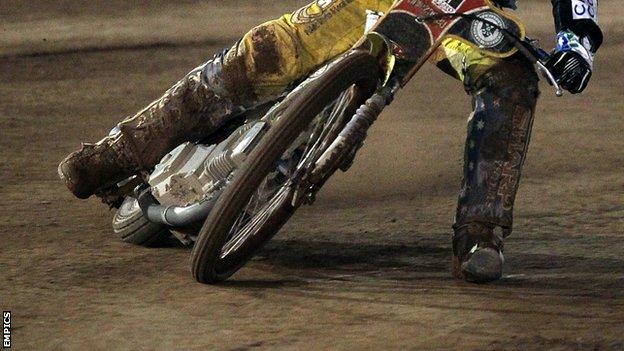 King's Lynn Stars have hit out at the Speedway Control Bureau for changing the result of their Elite League match at Swindon to a 45-43 defeat.
The Bureau has ruled that Cory Gathercole was ineligible to ride from the Stars and deducted the points he scored in a 45-45 draw.
He was included because David Howe and Ulrich Ostergaard were unavailable.
"We believe that decisions like this are clearly not in the best interest of the sport," a Stars statement read.
"This result has been altered nearly three weeks since the meeting took place, at which point neither the Swindon promotion or official SCB referee had any issues with King's Lynn using Cory Gathercole as a guest."
Gathercole, 25, normally rides for Somerset Rebels and at the time had a match average in the Premier League of 6.50.
The SCB says its rules mean King's Lynn were only able to use a Premier League rider with an average of 6.00 or less to fill in.
The original draw gave the Stars two match points and Swindon one, but the amended result means the points have been reversed.
"It's a sad day for King's Lynn speedway and the sport but we'll just take it on the chin and bounce back.
"I hope it doesn't affect us getting into the play-offs at the end of the season, that one point," co-promoter Jonathan Chapman told BBC Radio Norfolk.