Speedway: Rider Ryan Fisher out of hospital after crash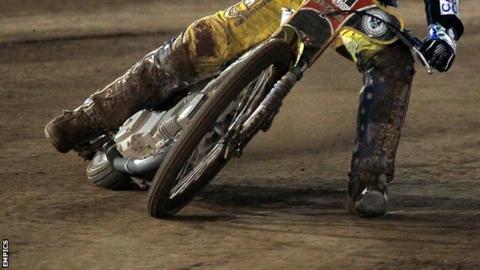 American rider Ryan Fisher has been discharged from hospital after a heavy crash while guesting for Peterborough Panthers on Monday evening.
The accident happened during heat eight of their 55-38 win over Elite League leaders Swindon Wildcats.
The 28-year-old's bike hit the fence at high speed after clipping the rear wheel of Swindon's Dawid Lampart.
He suffered concussion but Panthers promoter Trevor Swailes told BBC Radio Cambridgeshire: "Nothing was broken."
Fisher, who rides for Plymouth Devils, was guesting for the team as a replacement for Olly Allen, who broke his arm in Poland last month.
"He's feeling battered and bruised but it's brilliant news that there's no lasting damage,"said Swailes.
"Normally it's seven days from a head injury (before a rider can return to action), but knowing Ryan, he's going to be back sooner rather than later - he's a tough cookie."
The Panthers are also currently without Tomas Jonasson and Krzystzof Buczkowski because of back injuries.