West Midlands speedway: Wolves beat Bees in derby clash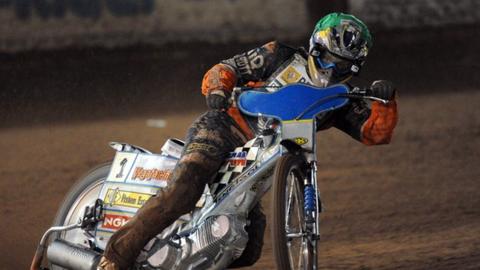 Wolverhampton Wolves moved above local rivals Coventry Bees in the Elite League with a 51-39 win on Monday.
The Bees, who were without injured British champion Scott Nicholls, lost in-form Chris Harris in Heat 11 of the fixture as he crashed hard.
And despite the best efforts of Kenny Larsen (15), the visitors were unable to hold out for victory.
Wolves' Tai Woffinden (13) took full advantage of the Bees misfortune while Freddie Lindgren notched 10+1.
Wolves boss Peter Adams said afterwards: "It was a good win. I know that the loss of Harris took the sting out of them, but we were very pleased with that.
"Our ambition now is to finish higher than any other Midlands club, and we have gone a long way to achieving that by beating Coventry tonight."
Meanwhile, Bees manager Blayne Scroggins felt the turning point was the loss of Harris.
He said: "We were close, but once we lost Chris it was over, especially with Scott also being out and with not having Adam [Roynon] on a day when the Premier League aren't normally racing.
Wolverhampton: Tai Woffinden 13, Freddie Lindgren 10+1, Nicolai Klindt 8+2, Ricky Wells 7+2, Pontus Aspgren 7, Ty Proctor 4, Jacob Thorssell 2.
Coventry: Kenni Larsen 15, Aaron Summers 8, Chris Harris 7+1, Eddie Kennett 5, Michal Szczepaniak 2+1, Kevin Doolan 2, Scott Nicholls R/R.
DUDLEY HEATHENS
Dudley Heathens have made it through for the National League Knockout Cup final, with a 34-point victory over the Isle of Wight.
Last Thursday's semi-final second leg 21-15 victory over the Islander's had to be abandoned after six races due to bad weather and it looked like the race would have to be replayed.
But the Islanders bosses contacted the Speedway Control Bureau to concede the tie and hand Dudley the win.
Heathens will face either Mildenhall or Stoke in the final.
Dudley chairman Nigel Pearson said: "We are naturally delighted to be going through to a major final and we will make it a very special occasion.
"The Islanders are concerned about a lack of dates because of the bad weather and they conceded there was very little chance of turning the tie around.
"We did the work in the first leg and rode well in the return only for the fog to come down. Hopefully the final will be held in good conditions."