West Midlands speedway round-up: Wolves see off Brummies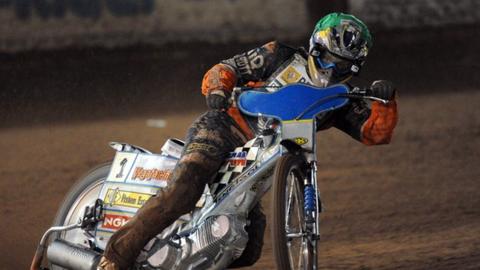 Birmingham Brummies' play-off hopes were dented by Monday night's 53-40 derby defeat by much-improved Wolverhampton at Monmore.
Skipper Freddie Lindgren (14+1) was on top form as Wolves bounced back from Saturday's heavy defeat at Eastbourne.
Tai Woffinden enjoyed a string of heat wins in his 12+1 haul.
"It is really great to bounce back from a terrible night down at Eastbourne. I feel like I am more comfortable on the bike," said Lindgren.
Having gone 16 points down after only six races, the Brummies failed to recover despite a brief mid-match rally, supplying only three race winners all night.
Ben Barker (8+1) did well in the middle order, behind Josh Auty, who top scored with 9, while the performance of new signing Nico Covatti was encouraging.
"We are bitterly disappointed," said Barker. "We came here to get a result so we aren't pleased to be going home empty handed. It is going to be tough to make the play-offs now."
Boss Phil Morris says his side must now win all their remaining meetings to keep their play-off hopes alive.
"Obviously we have got a lot of home meetings so we have got to rely on winning them and getting maximum points from them," he said.
"But also we have two more away matches to come at King's Lynn and Coventry so it's absolutely vital that we get something from them too."
Wolves continue their Elite League campaign with a daunting trip to title favourites Poole on Wednesday night (19:30 BST).
Wolves: Freddie Lindgren 14+1, Tai Woffinden 12+1, Ricky Wells 9, Nicolai Klindt 6+1, Ty Proctor 6, Jacob Thorssell 3+1, Pontus Aspgren 3.
Brummies: Josh Auty 9, Ben Barker 8+1, Danny King 7+1, Bjarne Pedersen 4+1, Sebastian Ulamek 4+1, Martin Smolinski 4+1, Nocolas Covatti 4.
COVENTRY BEES
Coventry romped to their biggest win of the season with a 60-31 hammering of Lakeside at Brandon.
Skipper Chris Harris led the Coventry scorechart with 16 as the Bees hit the 60-point mark for the first time.
But the middle order was solid too and there was a superb display at reserve from Aaron Summers (11+3).
The Australian was beaten in the second heat but then did not drop another point, twice getting the better of Hammers captain Davey Watt.
"That was my best meeting so far," said Summers. "I made a bit of a mistake in my first ride and it was hard to catch up, but we changed the set-up a bit, went back to what we had at the start of the year and it was good.
"It was a good team performance, and probably the first time we've had everyone on form."
Bees: Chris Harris 15+1, Edward Kennett 12+2, Aaron Summers 11+3, Kenni Larsen 11+2, Adam Roynon 7+1, Michal Szczepaniak 4+1, Scott Nicholls r/r.
Lakeside: Justin Sedgmen 11+1, Davey Watt 8, Peter Karlsson 8, Stuart Robson 2, Kim Nilsson 1, Jonas Davidsson 1, Robert Mear 0.
DUDLEY HEATHENS
Dudley Heathens ran out 54-40 winners in Tuesday night's top of the table clash with Mildenhall as they turned the tables following Sunday's defeat in Suffolk.
Tom Perry top scored with 16+1 at Monmore in the private battle of the two teams level on points at the top of the National League, who are widely predicted to meet again in the play-offs.
Skipper Adam Roynon returned, racking up 13 valuable points from the No 1 jacket, along with Ashley Morris and Perry, who all also missed Sunday's defeat at Mildenhall.
But the Heathens are now back on course for the National League leaders trophy.
The former Cradley club need to win their last two league meetings over Rye House and the Isle of Wight to go into the play-offs top of the league and have first pick of semi-final opponents.
Heathens: Tom Perry 16+1, Adam Roynon 13, Byron Bekker 9, Ashley Morris 6+1, Dan Greenwood 4+2, James White Williams 3, Darryl Ritchings 3.
Mildenhall: Joe Jacobs 13, Stefan Nielsen 9+1, Lewis Blackbird 7, Josh Bates 5, Ryan Terry-Daley 2+1, Lewis Kerr 2+1, Daniel Halsey 2+1.