West Midlands speedway round-up: Wolves beaten at Poole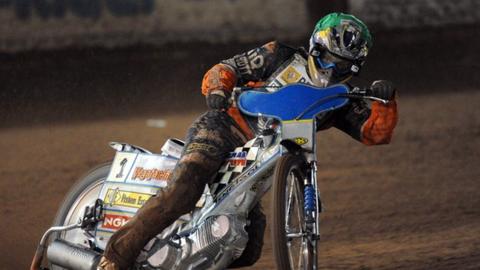 Wolves led twice before slumping to a 52-38 Elite League defeat at Poole.
The Midlanders gave the leaders a real scare and could have been in front, but for Ty Proctor making a mistake when on a 5-1 with the impressive Jacob Thorssell in the eighth heat.
But the Pirates finished strongly in the closing races to win six of the last seven races.
Wolves skipper Freddie Lindgren (11 pts) top scored, while Thorssell (8+2) had his best night in British speedway.
Poole: Krzysztof Kasprzak 13+1, Chris Holder 11+1, Darcy Ward 9+2, Dennis Andersson 9, Ricky Kling 7+1, Ludvig Lindgren 3+1, Linus Eklof 0.
Wolves: Freddie Lindgren 11, Jacob Thorssell 8+2, Nicolai Klindt 6, Pontus Aspgren 4+1, Tai Woffinden 4+1, Ricky Wells 3+1, Ty Proctor 2+1.
DUDLEY HEATHENS
Dudley Heathens defend their National League Fours title at Stoke this Sunday (16:00 BST).
The former Cradley club will be represented by Adam Roynon, Ashley Morris, Darryl Ritchings and Byron Bekker at Loomer Road.
Tom Perry, man of the match in the National League win over tilte rivals Mildenhall, is ruled out due to a prior grass track booking.
Heathens now need to win their remaining two league meetings at home to Rye House next Tuesday and Isle of Wight a week later to finish top of the league and have first pick of opponents in the play-offs.
"It gave the team a great confidence boost to beat Mildenhall," said Perry.
"We are all really looking forward to the KO Cup Final and the league is still looking good as well.
"We are on great form right now so if we can keep that going right through then I think it is going to be our year."