Peterborough Panthers skipper Kenneth Bjerre suffers broken leg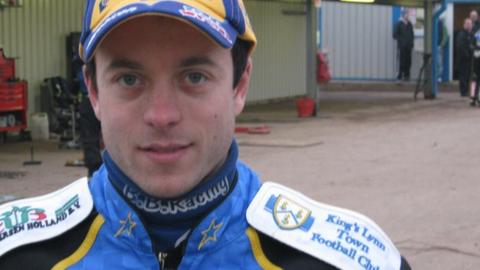 Peterborough Panthers skipper Kenneth Bjerre will miss the rest of the Elite League season after breaking his right leg in three places.
The 28-year-old Dane collided with team-mate Norbert Kosciuch in the opening heat of Thursday's 50-43 win over former club King's Lynn Stars.
"Ouch not again. Now waiting for an operation. Bottom right leg broken," Bjerre later tweeted.
He has also broken his left leg on two occasions during his career.
The latest injury means he will also miss Saturday's British Grand Prix in Cardiff.
Following the accident, Kosciuch responded with a 15 + 2 contribution to Peterborough's victory.
"It was a big blow losing Kenneth so early on, but every one of the guys responded magnificently," said co-promoter Jan Staechmann.
"We lose as a team and win as a team and this victory was for Kenneth."