King's Lynn Stars boss Rob Lyon threatens to quit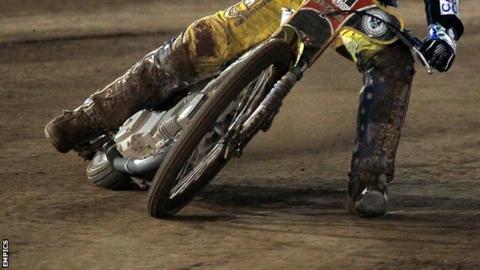 King's Lynn Stars manager Rob Lyon has threatened to quit following their 50-43 Elite League League defeat at Peterborough Panthers.
Lyon was critical of the East of England showground track after a number of crashes during Thursday's meeting.
"I just didn't enjoy it and if you're not enjoying something, it's time to get out," he told BBC Radio Norfolk.
"I think my time has probably come. If speedway is going to continue like that, I don't want to be a part of it."
Panthers skipper Kenneth Bjerre suffered a badly broken right leg during the opening heat of the meeting and Kings Lynn's Danish rider Ulrich Ostergaard had to retire with a finger injury suffered in one of a number of crashes.
However, Peterborough co-promoter Trevor Swales dismissed Lyon's claim that the track was unsafe.
"I'll fully accept that the track wasn't as good as in our previous meeting, but I certainly refute the suggestion that it was dangerous, and I really don't see that any of the accidents were down to the track," he told the club's website.
"It was grippy, but we do prepare a grippy track because our riders don't want it slick, and that's up to us as the home team."
Swales said Bjerre had been caught up in a "domino effect" as riders rounded the first bend.
"With Ulrich Ostergaard, he came down on his own and by his own admission that was because his chain came off, so the track couldn't be blamed for that," he added.