Speedway: Peterborough Panthers boss not looking to sell
Last updated on .From the section Speedway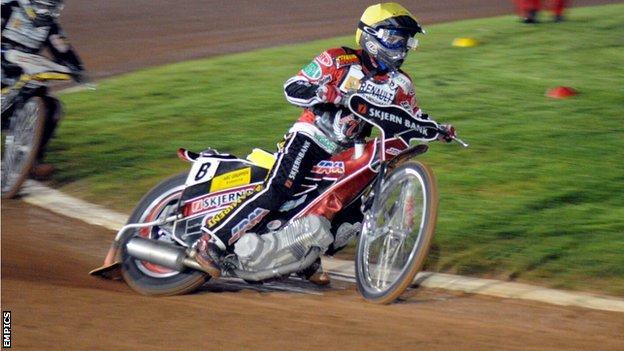 Peterborough Panthers owner Rick Frost has clarified his position by insisting he is not looking to sell the club.
He acknowledged that the club would "would struggle to survive at Elite League level here without substantial continued investment".
However, Frost insisted that it did not mean the club was now up for sale.
The Panthers were formed in 1970 and won the Elite League title in 1999 and 2006.
Their hopes of doing so again this season were ended when a 52-40 defeat by Coventry meant they could not qualify for the end-of-season play-offs.
Earlier this week, Frost told BBC Radio Cambridgeshire that attendances at their Showground home were often "abysmal" and that efforts to improve their financial situation by attracting new sponsors had so far been unsuccessful.
"We haven't moved forward at all yet," he said. "Although it's nice to have several sponsors, they're fairly small, and it doesn't go very far to top up the deficit."
Previous owner Phil Wing sympathises with Frost's position.
"Rick's statement about fans is crucial to any of the sports we've got, both in Peterborough or Cambridgeshire as a whole," said Wing.
"We're all dependent on the good fans coming through the door and when those start to drop off, you've got to take a long, hard look at your business plan to see if you can justify making the investment that owners do within any sport.
"Whether it be football, speedway or ice hockey, I don't think fans always realise that while they contribute, there is a substantial investment from the owner to keep the sport going."
Wing cited the loss of Peterborough's regular Friday race night because of other events at the Showground as a contributory factor in the club's problems, and suggested moving to another venue might ease the situation.
He added: "There are several successful new clubs that have been built up from, I wouldn't say derelict land, but if you can get a stadium or build a facility that you can work on a regular race night, I think that may help."