West Midlands speedway: Bees see off Brummies to make final
Last updated on .From the section Speedway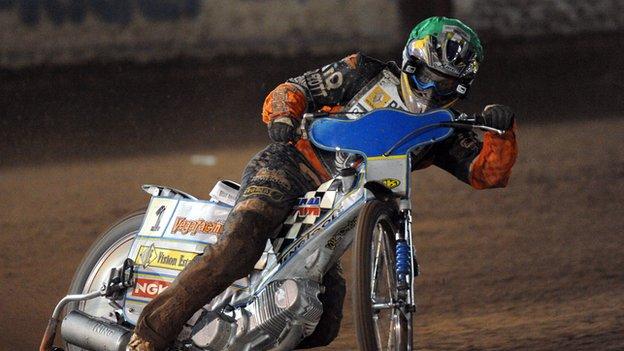 Coventry Bees ended Birmingham Brummies' season as they booked their place in the Knockout Cup Final.
The Bees kept their six-point first-leg lead after Thursday's 45-45 draw at Perry Barr and go through a meeting with either Poole or Peterborough.
"I'm over the moon," said Coventry promoter Mick Horton.
"Who we meet in the final doesn't bother me. I'm just delighted that we've given something back to the fans by making a cup final."
In far from ideal conditions, fit-again home rider Josh Auty had a nightmare, with a fall and two retirements.
Auty was cleared for action despite a horrifying high-speed crash in last Sunday's Premier League Riders' Championship after x-rays showed his wrist was not broken, as first feared, but ended up with just one point on the night.
Bees had an early scare when skipper Chris Harris crashed out of Heat One on the fourth bend, but reserve Adam Roynon, returning after six weeks out with a back injury, teamed up with Michal Szczepaniak for a 5-1 in Heat Two, and Scott Nicholls made a superb last-bend pass on Danny King to win the third.
When Harris and Aaron Summers - one of two former Brummies riders in the Bees' team - raced clear of Sebastian Ulamek in Heat five, following Auty's fall on the second bend, Bees were 12 points up on aggregate.
Consolidation was the order of the day as six of the next seven heats were shared, with the likes of Harris and Nicholls tucking in behind their partners on several occasions as King reeled off a host of wins for the Brummies.
But the Brummies went into the final three heats still eight down on aggregate and Harris and Kenni Larsen sealed victory with a 4-2 in Heat 13.
The Brummies levelled on the night with a 5-1 in Heat 14 but Harris maintained parity in the second leg with a great ride to defeat the flying King in Heat 15.
"I'm proud of the boys and I'm so pleased for the fans who turned out in awful weather. We were in command from the start and I think we deserved it," Horton added.
The home leg of the final will take place next Friday night (26 October).
In the end, 10 last places left Birmingham reflecting on what might have been from a campaign that saw them knocked out of both the Elite League Play-Offs and the Knockout Cup at the semi-final stage.
"The boys were so close but it's not quite enough," said King. "The track was tricky but it's the same for everyone.
"We've just got to be happy and reflect on what we've done this year. I think we'd take it, it's been a good season for the club."
WOLVERHAMPTON
Wolves' Grand Prix star Freddie Lindgren has been awarded a testimonial after a decade of service at Monmore.
"It feels good to be know I'll be back next year," said Lindgren. "I had a long meeting with Chris Van Straaten and have decided to stay for another year.
"We really want to get things a lot better for next year so we can get back to winning ways.
"It's very early stages of planning for my testimonial at the moment. I'll sit down with the committee over the winter and see what we can come up with."
Wolves round off their Elite League campaign with a trip to Belle Vue on Monday night as part of a double header against the Aces, who are due first on the track against Coventry.
Wolves will be without Ty Proctor who has returned to Australia for treatement on a long term hip injury.
Pontus Aspgren is unavailable and will be replaced by club asset Joe Haines, the British Under-21 champion.
DUDLEY
Dudley skipper Adam Roynon has been passed fit for Tuesday night's National League play-off final first leg against Mildenhall.
After suffering injuries to his back in a crash at Swindon in late August, his fitness has been a concern.
But the best rider in the National League has declared himself fit and ready to return for the Monmore double header.
Following the conclusion of the first meeting, the two teams are then scheduled to line up again in the second leg of the Knockout Cup Final.
The two sides are then booked to meet again at West Row in Wednesday night in the National League title decider.
Heathens coach Jan O Pedersen, concerned about the gap in fixtures which he says caught them on the hop in the semi-final against Stoke almost a fortnight ago, has called a behind-closed-doors practice session ahead of Tuesday night's National League Grand Final at Monmore.
"It was obvious against Stoke that we paid the price for a lack of meetings as a team," said the 1991 world champion. "We need to practise and hit the ground running on what is a massive night on Tuesday.
"The priority is for a handy lead, then we can defend it the following night at Mildenhall."
STOKE
Stoke Potters were brushed aside 54-37 in their weather-disrupted National Trophy meeting at Mildenhall on Saturday night.
Stoke had to wait until heat seven before they provided a heat winner in skipper Tony Atkin.
The tie had been postponed on Friday night, having originally been called off at West Row last Sunday when the Potters were trailing 24-6.
The Potters' National Trophy meeting against the Isle of Wight has been rearranged for Sunday, 28 October (15:00 BST).
Mildenhall are now favourites to lift the National Trophy after their win at Loomer Road, which also featured Stefan Nielsen taking the Bronze Helmet against home man Ben Reade.