Poole Pirates' Chris Holder wins Speedway Grand Prix
Last updated on .From the section Speedway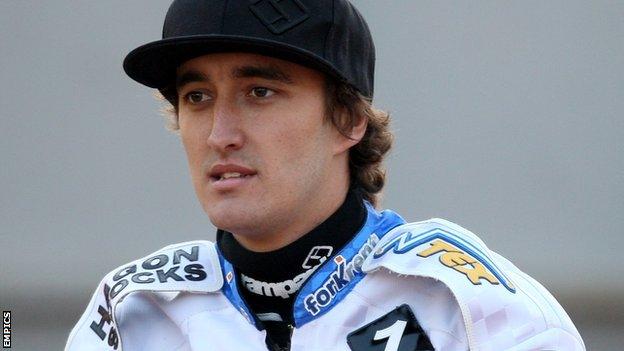 Poole Pirates captain Chris Holder won the Speedway Grand Prix title in Poland on Saturday.
The Australian, 25, was crowned world champion after winning the second semi-final in the last round of the series.
Holder had needed to finish ahead of closest rival Nicki Pedersen, who was six points behind and lined up against him in the decisive race.
The pair collided with each other going into the first turn before Holden sped away from his rival after the restart.
"I really can't take it all in right now," said Holder. "All I hope is that all the guys back in Australia feel it was all worth getting up so early out there to watch it."
Poole boss Matt Ford paid tribute to the Australian calling his achievement "incredible'.
"As a club we should be justifiably proud of what Chris has achieved and having a sport's world champion in the town is an incredible feat," said Ford.
"Here is a rider who is the youngest ever world champion in the sport's Grand Prix era and it took him just three seasons of GP racing to rise to the very top.
"I am so proud of him. Ever since I was first made aware of his huge talent I knew that he had the making of a World Champion and there can be no-one around who would honestly deny him this title.
"I believe he will be a great world champion and it is a great honour that he is part of our club - a very special part - and it is now down to all of us to show him just how much we appreciate him."