Elite League Grand Final: Swindon beat Poole in first leg
Last updated on .From the section Speedway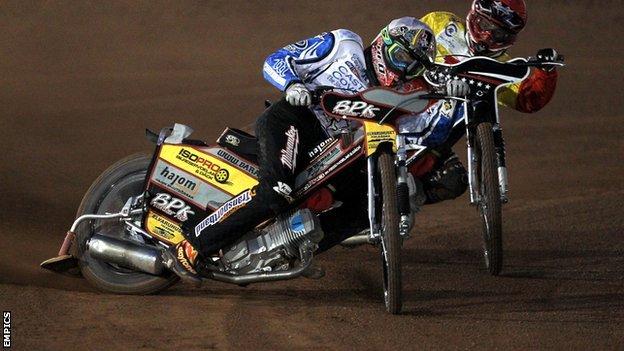 Swindon overcame a spirited Poole side at the Abbey on Monday to take the advantage going in to the second leg of the Elite League Grand Final.
The hosts started with 5-1s in the opening two races and extended their lead to 18 points after heat nine.
But double-point wins from visiting duo Chris Holder and Darcy Ward cut Swindon's lead to seven.
The Elite League title will be decided in the second leg at Wimborne Road on Wednesday evening.
Swindon team manager Alun Rossiter said: "Obviously I think we are a bit disappointed because we gave away some silly points.
"It was a very good start we made but we should have done better to keep that position.
"But a win's a win and we will take it."
Poole promoter Matt Ford called for "more passion" from his team's lower-order if they are to turn around the deficit.
The Pirates' top three of Ward, Holder and Krzysztof Kasprzak scored all but six of their side's points at Blunsdon.
Ford said: "I have no doubt some people should think I would be jumping with joy and ready to leap out of the stratosphere like Felix Baumgartner after managing to come back from 18 points down to a single figure reverse.
"But I'm not happy that we allowed ourselves to fall so many points adrift. This is a final and it's about a team, not certain individuals to score all the points.
"We are in it and should want to win it. I want more commitment, more passion and more emotion on Wednesday."
LINE-UPS
Swindon: Hans Andersen 11+1, Peter Kildemand 10, Sebastian Alden 8+2, Simon Stead 8+2, Nick Morris 6+2, Troy Batchelor 5, Dawid Lampart 3+1.
Poole: Darcy Ward 15, Chris Holder 13, Krzysztof Kasprzak 10, Sam Masters 3+1, Ricky Kling 2, Kyle Howarth 1, Piotr Pawlicki R/R.